Maui Whale Festival celebrates "World Whale Day," Feb. 14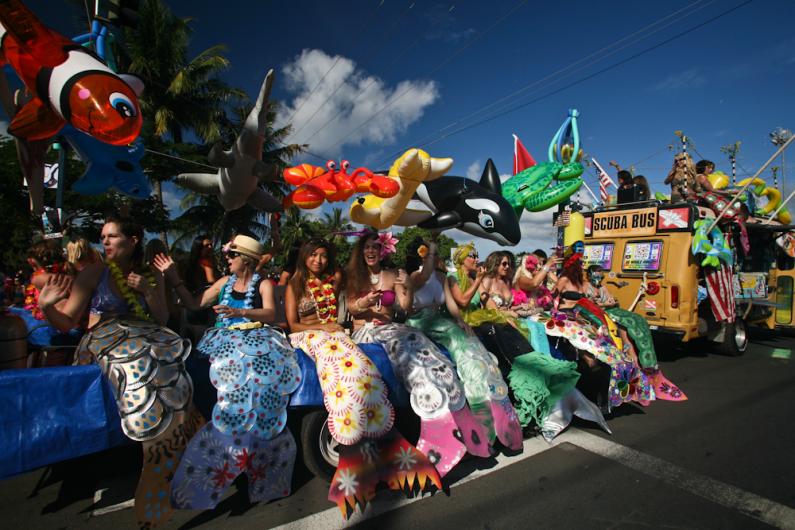 If you love whales and Hawaii, there may be no better way to spend this Valentine's Day than at the 35th annual World Whale Day in Kihei, Maui.
World Whale Day, a full day of festive events and activities this Sat., Feb. 14, celebrates endangered North Pacific humpback whales at the peak of Hawaii's whale season. Spearheaded by the Pacific Whale Foundation, a non-profit ocean advocacy organization, World Whale Day is the largest in their weeks-long series of Maui Whale Festival events. Other Maui Whale Festival events include a whale count, lectures and a fundraising run/walk.
World Whale Day starts at 9 a.m. with a parade of colorful whale-and-ocean-themed floats and community participants. The parade route will follow South Kihei Road from Alanui Ke Alii to the event's headquarters at Kalama Park. After the parade, expect a festival atmosphere with live music from Hawaii artists such as Henry Kapono and Willie K., hula and Tahitian dance performances, eco-information booths, a keiki carnival with bouncy castles, and a "Made on Maui" artisan fair with ocean-themed pottery, jewelry, woodworking and other crafts.
There's even a fundraising whale regatta where anyone can sign up online to sponsor a miniature rubber whale that will race down a constructed waterway. The sponsor of the winning whale wins a free trip to Maui.
For the 35th anniversary, this year's event will also feature a historical look back with photos and anecdotes from previous years' events and a chance to win a retro "Save Those Whales Now" t-shirt.
The celebration will last until 7 p.m. If you can't make to Kihei in person, the day's events will be streamed live online starting at 10 a.m. Hawaii Time.
With all the fun on land it can be easy to forget to watch the sea. But, try not to. Previous attendees have reported great whale sightings just offshore of the festival.
The night before World Whale Day on Fri., Feb. 13, there will be an interactive "Whales Under the Stars" presentation with the Pacific Whale Foundation's founder Greg Kaufman. Sat., Feb. 28 is the "Great Whale Count" where volunteers can help record whale sightings and behaviors from 12 designated shore spots on Maui. Both events are free, open to the public and part of the larger Maui Whale Festival series.
Hawaii's whale season officially began last August with the sighting of the year's first humpback whale off Kauai. Since then, participants in the first of a series of Hawaiian Islands Humpback Whale National Marine Sanctuary Ocean Count events spotted some of the count's record whale numbers. Though Hawaii's annual visitors are still endangered and threatened by loss of habitat, marine debris, pollution and boat collisions, North Pacific humpback whale populations have risen steadily in Hawaii in the last few decades.