Maui's "Burn'n Love" Elvis show island hops to Waikiki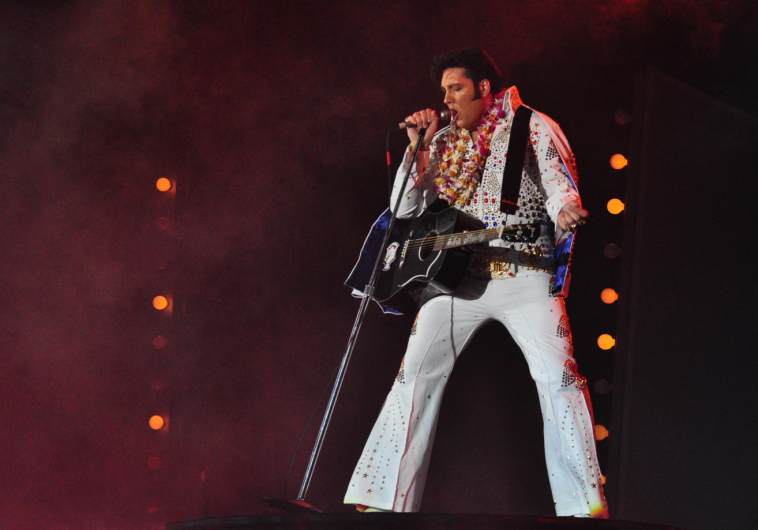 One of the most popular visitor shows on Maui, "Burn'n Love," an Elvis tribute extravaganza, is sparking more conversations AND getting a little more action, after opening its second show in Waikiki this week.
The new show by the same name opened at the Magic of Polynesia Theatre at the Holiday Inn Resort Waikiki Beachcomber on Tues., July 14 and runs Mon.-Sat. at 8 p.m.
"Burn'n Love, Waikiki" features a different Elvis tribute artist, Leo Days, but the same concept that made the theatrical event—a retrospective of Elvis' tours, concerts and movies made in Hawaii between 1957 and 1977—so popular on Maui.
We previewed the Waikiki show and were impressed with how closely Days seemed to mimic The King's temperament throughout the decades.
Though the show opened with much pomp and a red-caped Elvis descending from a platform on the ceiling (see video at the end of this post), the real story begins with Elvis swaying in front of the mic in plain clothes and early songs such as "Blue Suede Shoes" and "Jailbird Rock." Over the course of the performance, Day's confidence and eccentricity crescendos into a fully-fledged spectacle of tight-fitting unitards and gyrating hips. Through a moody performance of "Blue Hawaii" and a theatrical rendering of "Suspicious Minds," the audience was all too willing to be transported—ladies grabbed for Elvis' famed white scarf and fought for attention when he entered the crowd. The packed theater ultimately gave him a standing ovation.
Mostly just solid entertainment, we also learned a few facts about Elvis' time in Hawaii including this surprising nugget: More people viewed the broadcast of his "Aloha from Hawaii" concert in 1973 than watched Neil Armstrong land on the moon.
In 1961, Elvis performed a concert in Waikiki from which all of the proceeds went to build the USS Arizona Memorial in Pearl Harbor. The "Burn'n Love" show, in that spirit, also donates a portion of its Waikiki ticket sales to Aloha United Way. On Maui, Burn'n Love ticket proceeds benefit the Maui Food Bank.