Maui's luxe Grand Wailea resort to undergo $30 million renovation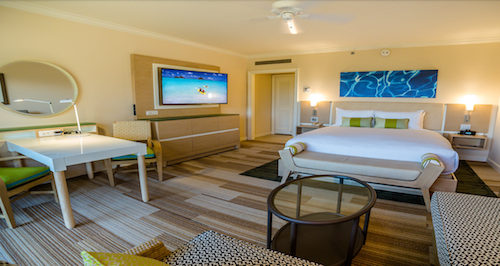 Maui's Grand Wailea resort will undergo $30 million in renovations, slated to begin this week and continuing through spring 2015. The recently announced renovations will refresh the massive luxury resort's guestroom décor, pools and meeting areas. The resort will remain open throughout the renovation process.
The 23-year-old resort will trade in the traditional browns and beiges of its 780 Hawai'i plantation-styled guest rooms for a brighter, airier and more contemporary décor adding pops of green, blue or coral to reflect the resort's natural surroundings. New in-room artwork by regional and local Maui artists will depict themes of water and surfers. The updated rooms will also feature more charging stations for the modern traveler, including USB connections that feed directly into new 55" flat screen TVs.
Many of the modifications help to update the resort's sustainability efforts. LED lighting will replace traditional bulbs, and new carpets made of recycled materials will feature in rooms and hallways. Some guest room accent carpets will be crafted from recycled Pacific Ocean fishing nets.
The resort's popular pools and spa will also see some improvements. The adults-only Hibiscus Pool has already been retiled. The huge Wailea Canyon Activity Pool will feature a new pool deck. And all pools will receive an upgrade to a more energy-efficient pump system. The Grand Wailea's Spa Grande will receive new carpet in its common areas.
The Grand Wailea is a favorite resort of HAWAII Magazine readers, topping or placing in multiple categories in our 2013 and 2014 Readers Choice Awards, including "Best Luxury Hotel or Resort" (#2), "Best Hotel or Resort for Families" (#4), "Best Hotel or Resort Spa" (#1) and "Best Hotel or Resort Pool" (#1).
The property is managed by the Waldorf Astoria group of hotels and resorts. For more information on the Grand Wailea resort and its upcoming renovation click here.