May Day is Lei Day in Hawaii. Here's a roundup of celebrations around the state.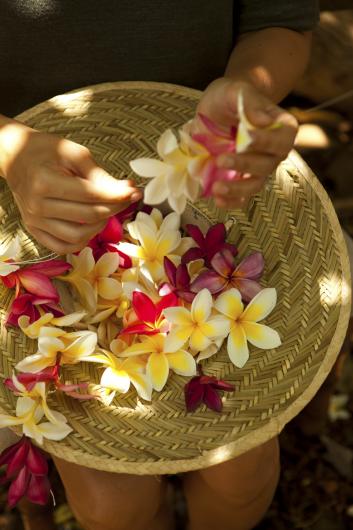 On May 1 much of the northern hemisphere celebrates and welcomes spring, or celebrates unions and worker's rights. In Hawaii, the day is a celebration of Hawaiian culture and tradition: May Day is Lei Day.
Lei Day festivities often include fragrant floral lei-making competitions, hula and music concerts and the sharing of lei among friends and family.
The holiday was the brainchild of Honolulu Star Bulletin poet Don Blanding who noticed that U.S. and immigrant cultural holidays were celebrated in Hawaii, but there was no holiday unique to the Islands and Hawaiian culture. He proposed a holiday around the local custom of creating decorative lei to the newspaper in 1927.
"So, the bright idea that I presented was, "Why not have a Lei Day?" Let everyone wear a lei and give a lei. Let it be a day of general rejoicing over the fact that one lived in a Paradise," said Blanding in his 1930s book "Hula Moons." "Let it be a day for remembering old friends, renewing neglected contacts, with the slogan "Aloha," allowing that flexible word to mean friendliness on that day."
Creators of traditional lei take great care to gather the materials and the giving of the adornments is symbolic: It's believed the mana (spirit/essence) of the creator is sewn into the loop and the giver shares a part of that spirit with the receiver.
The newspaper helped to get word of the new holiday out, Blanding's co-worker coined the phrase "May Day is Lei Day," and it was a hit—Lei Day was declared an official holiday two years later.
Here's a round up of some of this year's May 1 Lei Day celebrations:
HAWAII ISLAND
It's the 11th year for Hilo's free Lei Day Festival, which runs from 10 a.m. til 3 p.m. in Kalakaua Park. It's the second year for the festival's Kauluwehi Lei Contest. Come ready for live music, to meet the festival's Lei Day Queen and to enjoy hula, food, Hawaiian puppetry, an art show, lei making lessons and even aerial silks performances. For more information, visit the East Hawaii Cultural Center's calendar listing here.
The Volcano Arts Center in Volcano and within the Kilauea State Recreation Area has its own Lei Day celebration. Area musician Wes Awana will teach popular tunes on the ukulele. The center will also provide flowers and plants for a lei making class. Runs from 10:30 a.m. til 1:30 p.m. on the Volcano Art Center Gallery Porch. For more information, click here.
Kauluweli, a juried lei-making competition for amateurs and professionals, hosts its awards ceremony from 5 p.m. til 7 p.m. at the Wailoa Arts & Cultural Center in Hilo. Kahiko (traditional) lei—made of native Hawaiian flowers, plants, shells and nuts and bound with natural materials—and auana (modern) lei—using plant, synthetic or recycled materials—will be judged separately. Contest entrants will be displayed in the center until May 8. For more details, click here.
MAUI
Hawaiian musician Robert Cazimero and his hula halau (dance troupe) will take the stage at the Maui Arts and Cultural Center's Castle Theater in Kahului, for this year's Maui Lei Day Concert. Before the show, peruse a selection of lei and local arts and crafts displays; there will also be an additional pre-show hula performance on the Pavilion stage. Tickets run from $12-$55 (plus fees). For ticket sales and more information, click here.
At the Bailey House Museum in Wailuku, a free day of community and lei-centric events run from 10 a.m. til 4 p.m. Craft demonstrations, a lei making contest and special presentations round out their 2015 Lei Day Heritage Festival. For more information, click here.
OAHU
The state's largest annual celebration, put on by the City and County of Honolulu, includes performances by area hula halau, members of the Hawaiian Steel Guitar Association and the Royal Hawaiian Band, lei making contests and the crowning of a Lei Queen and her court. At the 88th annual Lei Day celebration, learn to make lei, weave lauhala and play Hawaiian games in Kulana Lei, a Hawaiian artisan village. The event takes place in Queen Kapiolani Regional Park from 9:00 a.m. til 4:00 p.m. For more information about the free event, click here.
KAUAI
The Kauai Museum in Lihue's Lei Day events include adult and children's lei making contests, lei making instruction, food vendors, live entertainment, a silent auction and lei sales from 7 a.m. til 6 p.m. This year is the 35th annual Irmalee and Walter Palmroy Lei Contest and the 4th annual Happy Keiki La Lei Contest, both popular judged lei making competitions with awards in several categories. For the complete schedule and for more information, click here.