Meet our Aloha Festivals Flyaway Sweepstakes Winner: Montana's Lucinda De Leon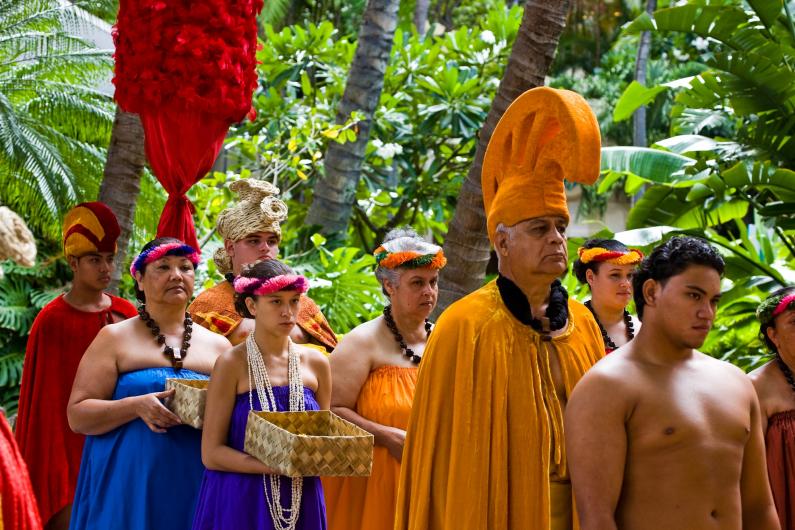 HAWAII Magazine wants to congratulate Lucinda De Leon of Poplar, Montana for winning our Aloha Festivals Flyaway Sweepstakes. The 45-year-old Native American from the Fort Peck Reservation won round-trip airfare for two on Alaska Airlines, four nights/five days at the Sheraton Princess Kaiulani hotel, two tickets to the Te Moana Nui show, $100 gift card to Crackin' Kitchen, $100 gift card to Ala Moana Center, two Aloha Festivals T-shirts and ribbons and VIP seating at the Aloha Festivals Parade. De Leon will be bringing her longtime friend, Kim All Runner, with her to Oahu to attend the 2015 Aloha Festivals, which is themed "Hulu Aloha"(Beloved Feathered Treasures).
This year the festival honors the Hawaiian tradition of featherwork, which was an art form to adorn the regalia of the alii (ruling class). Kahili (feather standard), ahuula (cloaks), mahiole (helmet) and lei were woven with the brightly-colored feathers of native and endemic birds. These birds were caught by the haku hulu (feather worker) and they would gingerly pick a handful of plumage then let the bird return to the forest. Hawaiians would weave these feathers into beautiful pieces of regalia that can still be seen today in museums as well as during the Aloha Festivals.
This will be Lucinda's first time experiencing the grandeur of "Hulu Aloha" first hand as well as Hawaii. In addition to her inaugural trip to the Hawaiian Islands, this is also the first giveaway she has ever won and is thrilled to be traveling to the 50th State sooner than expected. Originally, Lucinda was planning a trip to Hawaii during her birthday month, but with her stroke of luck will now be flying to paradise.
"Well, I was planning to take a trip to Hawaii in the winter, I've always wanted to go there and that was about the only free time. My birthday is in December so I was trying for December," explained Lucinda over the phone. "Every picture of Hawaii I've seen I just posted it, liked it and shared it. [Hawaii] is just so beautiful and I can't think of a better place to be. I saw the contest, entered and, wow, I won. I feel like the luckiest person in the world!"