Meet the Cats of Kapahulu at the Hawaii Cat Cafe
The Hawaii Cat Café on Kapahulu Avenue lets customers sip away on a coffee or latte in a room full of adorable cats.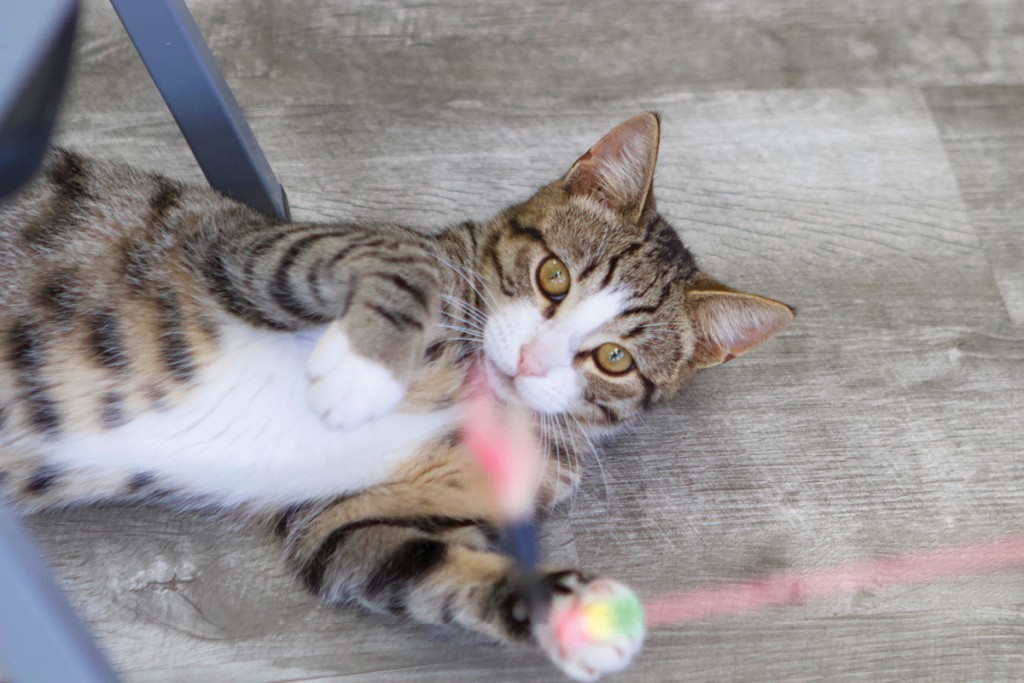 Godiva is appreciating my butt scratches and honestly, I am appreciating her. Tail lifted high, she walks away for a moment before turning around and nuzzling her tiny head into my open palm. I'm in love.
Godiva has stolen my heart, but like the chocolate she's named after, I know I can't have her. It'd be bad for my health. My own cat, Amira, would not appreciate another furry friend in her palace (aka my apartment) and she'd likely take that frustration out on me. But I want her so bad, along with the other 13 felines in the cat lounge of the state's first and only brick-and-mortar cat café.
Located on Kapahulu Avenue near the Honolulu Zoo, is the Hawaii Cat Café, which opened in October 2018. Unlike the zoo, however, you can take these animals home, thanks to a partnership between the café and the Oahu Society for the Prevention of Cruelty to Animals, a no-kill sheltering operation. The idea is the brainchild of Cindy Washburn who loves two things: cats and coffee.
"We paint little cat heads for all the cats on the wall there and my husband and I can stand there and tell you all about each individual cat," says Washburn, as we sit inside the café's lounge area. (You have to pay a small fee to spend time here.) The hardwood floors are occupied by cat scratching posts, cat towers, cat treadmills, feathered balls and the occasional human. Couches, tables and chairs make the space comfortable for guests, but the focus here is obviously the cats.
I'm surprised how relaxed these felines are as I sit in their space. Instead of running away or trying to hide, some of the older cats simply roll on the floor in front of me, inviting me in for a good chin scratch, while kittens try to steal my attention, playfully batting my feet with their pint-sized paws.
"I think they realize after a while that they're safe," says Washburn. "A lot of them come in young and are fine with everyone, but the ones that are afraid and not very social, we work with them. When people aren't here, we bring the scared ones out and pet them on the couch until they purr, or we give them catnip and treats."
A family of four enters the room and Washburn immediately goes over to greet them. Making good on her statement of knowing each individual cat, Washburn introduces the group to all 14 in the lounge, even acknowledging their little nicknames and personality types. "This little delinquent over here knocking over drinks is Sheldon," says Washburn. "Up top here is Diamond, who is 10 years old, and she's the queen bee of the café. If you try to pick her up, she'll be very dramatic." The family seems enamoured by Washburn's talk, and Washburn herself seems to take great joy in introducing her feline friends to her customers, who will end up hopefully taking one home.
"We've had 82 adoptions so far," Washburn tells me, as I enthusiastically scratch the top of Diamond's head. It's a big number, as the adoption process for an Oahu SPCA cat is much more rigorous compared to the Hawaiian Humane Society. "Part of what [the Oahu SPCA is] doing is making sure that these cats aren't just finding temporary homes, but they're finding forever homes with people who are going to take care of them," says Washburn. This means an eight-page application form—which also serves as a contract with the shelter—that is then submitted to the Oahu SPCA for further evaluation, with possible pet parents being given the OK within 72 hours.
After giving Godiva one last good round of butt scratches—I think it's her favorite—I reluctantly head through the exit of the cat lounge. As a pick-me-up, Washburn offers me a drink from the café's menu, which reminds me that the cat café isn't just a room filled with cats. There are handcrafted lattes, too. I take my time appreciating the pun-filled menu before deciding on a Siamese latte. It's sweet, but isn't an overload of sugar, and the milk has been perfectly aerated to create a soft, foamy brew. Classic coffee-shop treats, such as almond croissants, oatcakes and apple Danishes also make an appearance, and I grab a glazed scone to go with my latte.
Sipping away at my drink and chatting with Washburn about our own cats—she has two, I've got one with enough sass for two—I notice a sign on the front entrance. The café is looking for a part-time barista and I can't help but imagine how sweet it would be to work with cats and coffee all day, and Washburn agrees. "I always wanted to have my own business, and with this [the Hawaii Cat Café], at the end of the day I feel good about what I've done," says Washburn. "There's passion and drive behind it and I've created my own paradise."
Hawaii Cat Café. To visit the cat lounge: $10 adults, $5 children 11 and under for 30 minutes; $15 for adults, $10 for children 11 and under for 60 minutes. Open 10 a.m. to 7 p.m. Monday through Friday, 10 a.m. to 8 p.m. Saturday and 10 a.m. to 5 p.m. Sunday. 415 Kapahulu Ave., (808) 744-3192 or visit hawaiicatcafe.org.