Merrie Monarch Festival's prestigious hula competition to get under way on Big Island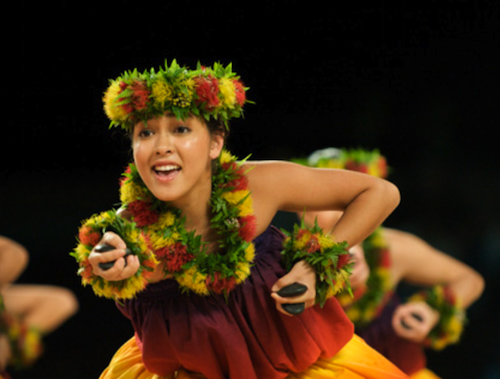 Hawaii's top hula halau and competitive dance groups, featuring both women and men, from elsewhere are now focused on final rehearsals for the 49th annual Merrie Monarch Festival's three-night competition, which will begin tomorrow night on the Big Island with the Miss Aloha Hula Competition.
But before the world's premier hula contest gets under way in Hilo, festivalgoers are invited to peruse the Merrie Monarch Invitational Arts Fair, which opens today at Afook-Chinen Civic Auditorium. The fair will be open from 8:30 a.m. to 5 p.m. through Fri., April 13; and 8:30 a.m. to 4 p.m. on Sat., April 14.
Among the fair's highlights: Sunrise Shells Hawaii — last year's winner of the "Best Booth Design" award. Its booth will feature handcrafted pendants (pictured, below) as well as shell lei and earrings. The shells, which are indigenous to Hawaii, are a type once worn only by the Islands' alii (Hawaiian royalty). Brian Emery, who co-owns Sunrise Shells Hawaii with his twin brother, Kevin, told us: "We design our jewelry in a way that preserves the shells' natural form." He added, "We don't drill holes because drilling weakens and disrespects these sacred shells." For more information about Sunrise Shells, click here.
Also in the under way today: a free hula exhibition set to begin at 6 p.m. at Edith Kanakaole Stadium.

Tickets are needed to attend the competitive performances. And they may now be hard to come by. In recent years, the overall event has sold out before the dancing started. But hula fans need not despair. You'll be able to catch every graceful movement and synchronized shake online or on high-definition television here in the Islands.
Hawaii TV network KFVE will live stream the entire contest from Hilo's Edith Kanakaole Stadium. For a complete live-streaming schedule, click here. If you're here in the Islands, tune into KFVE's high-definition broadcast on all three nights on Channel 5.
Each night's competition will start at 6 p.m. Hawaii Standard Time (HST). That's midnight on the East Coast, 9 p.m. on the West Coast. Tonight, a program titled Backstage: LIVE at the Merrie Monarch, will air from 7:30 p.m. to 9 p.m.
The Miss Aloha Hula Competition — slated for Thurs., April 12 — will spotlight soloists performing both hula kahiko (ancient hula) and hula auana (modern hula). Hula halau (dance groups) will perform in a kahiko competition on Fri., April 13 and an auana competition on Sat., April 14.
The festival is a nonprofit organization that honors the legacy of King David Kalakaua, who was called the "Merrie Monarch" for his love of the arts, especially music and dance. During his reign, from 1874 to his death in 1891, he supported the revival of hula, which had been discouraged by missionaries. Early Hawaiians used chant and hula as vehicles to express everything from mythology and history to religion.
The Merrie Monarch Festival will wrap up with the celebratory Merrie Monarch Royal Parade through downtown Hilo, 10:30 a.m. on Sat., April 14. All festival events, except for the competitive hula contest, are free and open to the public. For more festival information, click here.