Merrie Monarch hula competition begins tonight. Watch it live online.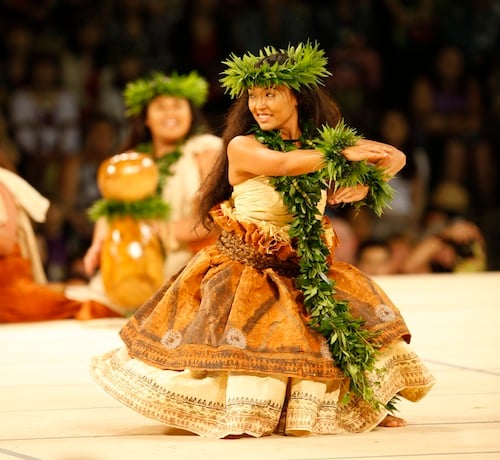 The first day of competition at the prestigious 52nd annual Merrie Monarch Festival, a showcase of hula and Hawaiian culture, kicks off tonight (Thurs., April 9). For this year's 24 competing hula halau (dance troupes), and 10 competing soloist Miss Aloha Hula 2015 contestants, the festival is the pinnacle of the last year—and for many, a lifetime—of practice and preparation in the art of hula.
Over next three nights, competitions, the most popular and anticipated feature of the weeklong festival, will play out in the Edith Kanakaole Stadium in the Hawaii Island town of Hilo. All competitive performances will be broadcast on local TV and streamed live online.
This evening, 11 solo female dancers will each perform a seven-minute hula kahiko (ancient dance) with oli (traditional chant), and a seven-minute hula auana (modern dance) as they compete for the title of Miss Aloha Hula 2015. Contestants will be judged on their use of Hawaiian language and their overall performances. Several awards will be given, but only performer one will win the title of Miss Aloha Hula. Our sister publication, MANA Magazine, interviewed several of this year's contestants to learn their stories and what the dance means to them. You can read profiles of 2015 Miss Aloha Hula contestants Larriley Rawlins, Kelsey Galago, Noelani Dudoit, Tiffany Desilva and Pualani Armstrong by following their links.
Friday evening, tune in for the hula kahiko competition to see groups of kane (men) and wahine (women) perform traditional, or ancient, Hawaiian dance. Saturday's hula auana competition will showcase group performances of modern hula and will be followed by the awards ceremony honoring winners from each of the competitive events.
If you're unable to be there in person but have access to a TV in Hawaii, you can catch all of the competitive events live on KFVE The Home Team or during their rebroadcast the following day (see the end of the post for rebroadcast times). Or, you can join many members of our HAWAII Magazine reader ohana and watch the competition as it is streamed live online here.
Competition will begin at 6 p.m. Hawaii Time each night—that's midnight on the U.S. East Coast and 9 p.m. on the West Coast—and will run for at least six hours. And, it's worth it to stay up late: Only one-minute video summaries will be archived on the KFVE The Home Team's website the following day.
Merrie Monarch began in 1963 to perpetuate, promote and preserve the Hawaiian culture but it wasn't until 1971 that its colorful and graceful competitive hula events were incorporated into the festival. The 52nd Merrie Monarch Festival kicked off earlier this week with a hoolaulea (celebration), free and open to the public performances throughout the town and a daily Hawaiian arts and crafts fair.
Follow the link for a full schedule a detailed description of this year's Merrie Monarch festival events.