More from Kilauea volcano: Draining lava lake video; full moon over Halemaumau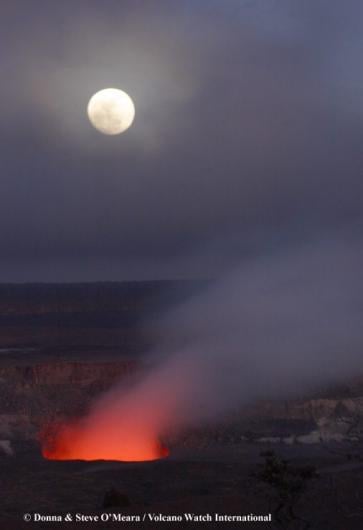 Great video and photos of lava activity at Kilauea volcano's Halemaumau crater just keep coming!
Geologists at the Hawaiian Volcano Observatory this week shot some of the best footage yet of Halemaumau's lava lake during one of its periodic draining cycles. The video arrives a week after HVO shared some of the clearest footage it had captured of lava activity within the Halemaumau crater vent.
The new video below—shot by HVO geologists on June 12—shows the lava lake slowly draining back down the Halemaumau vent's funnel-shaped conduit. Shown in real time, the conduit drains in about 40 seconds in the video. Geologists say the action is part of regular cycles of filling and draining caused by the episodic release of accumulated gas in the vent.
Post-draining, the lava lake again fills the conduit, leveling off at about 670 feet below the crater floor vent opening. Geologists say they do not know if the lava lake within the vent will eventually surface or fountain within Halemaumau.
Meanwhile, Hawaii Volcanoes National Park's Thomas A. Jaggar Museum is still extending its daily hours of operation to accommodate visitors flocking to the park to see the vent's heightened evening luminescence.
Kilauea volcano area residents, volcano watchers and regular HawaiiMagazine.com contributors Stephen and Donna O'Meara captured the image above of the Halemaumau vent on June 5 from the Jaggar lookout, as a full moon rose over the crater. Our mahalo to the O'Meara's for sharing another stunning Kilauea photo with us.
The Jaggar museum is open until 8 p.m.; its overlook is open 24 hours daily.
HawaiiMagazine.com has reported regularly on lava activity at Kilauea volcano and Hawaii Volcanoes National Park. Click here to catch up with all of our Volcano News posts. Click here to follow our updates on Twitter, and here to follow our updates on Facebook.
Click on the frame below for United States Geological Survey video of the Halemaumau lava lake draining: