More tree houses may be in Hawaii's future: A new design aims to make stores, cafes and bars mimic nature with a sustainable structure.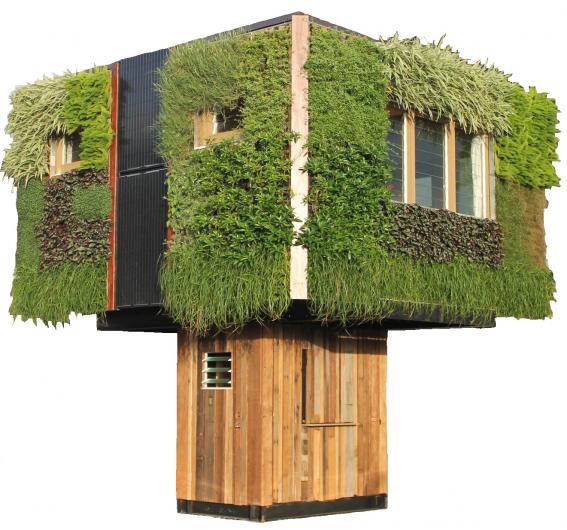 Imagine if the movies "Fern Gully" and "Swiss Family Robinson" were real, and there were tree houses prevalent around the Islands that are also designed to be off the grid with a relatively small footprint (40 square feet to be exact). A Hawaii-based company, Elevate, intends to make this come true, and has roughly 48 hours to reach its Kickstarter goal of $56,580 to lease commercial real estate, construct another prototype and demonstrate the commercial application for this innovative building.
Designed by civil engineer, Nathan Toothman, the Elevate Structure idea came to the 40-year-old family man from a job on the North Shore that was flanked by foliage. "[The job] was surrounded by trees and I thought a tree would fit in very well with other trees," explains Nathan." I wanted something off the grid because there was no water supply out there so that's the design of the center of the tree [house] where you can store a large quantity of water, then off the grid with solar panels. And raise it up because it's safer from flood waters, intruders and more difficult to break in to. Just make it blend in and mimicking nature actually."
The trunk of the tree house is designed to store 1,500 gallons of water, but, for commercial application, it can be converted to a drive-through window. In addition, the goal of the structure's foundation is to have minimal environmental impact. The base is only 40 square feet and is made from steel micropiles and spot footers, which require less work and can be installed in a matter of weeks rather than months. While it occupies a small space on the ground, the amount of useable commercial space is exponential depending on the size of the main structure, which is available in three different sizes (250 sq. feet, 320 sq. feet and 400 sq. feet)—plus rooftop space.
Toothman realizes that land and space is becoming a valuable commodity in urban areas of Hawaii so the building is built to efficiently utilize small spaces in commercial areas. "Instead of taking up the valuable footprint because square footage is very valuable in Hawaii […] you elevate things up and you do it in a center point so you can still use parking around it and then you also keep the symmetry of a tree," he says. "In Hawaii it's really important, because we're limited on space and we're getting overcrowding more and more and more. Parking and traffic is getting worse all the time and [Elevate] can help address those issues."