Mountain biking in Maui's Makawao Forest Reserve
For two-wheeled adventurers, the forest trails of the Makawao Forest Reserve are a mountain-biking nirvana.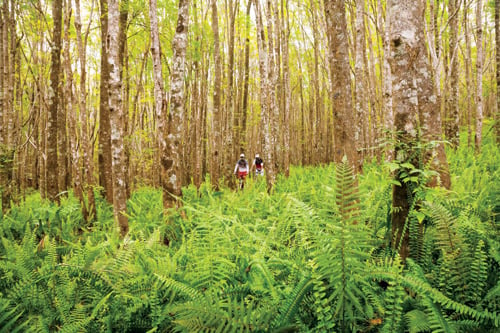 Just as certain as there are surfers flocking to Maui's best surf breaks when waves are up, when the weather is clear in the dense forests of Upcountry Maui, outdoor adventurers are headed up the slopes of massive Haleakalā volcano.
Here, high above the island's vast central plain, upland pineapple fields, former sugar land and family farms meet the five forest reserves of Haleakala's west-facing slopes. I'm winding my car up several rural Upcountry roads, past gulches and ranching pastures, to one of them: the Makawao Forest Reserve. The adventure awaiting me today? An afternoon of mountain biking in the reserve's Kahakapao Recreational Area.
Kahakapao's trails wind beneath a verdant forest canopy of fragrant pine and eucalyptus trees—the latter towering over bikers and hikers. By morning, rays of dappled sunlight scatter between the thousands of close-set eucalyptus trunks that create blissful paths for mountain bikers. For afternoon hikers, clouds settling on the high-elevation forest bathe its mahogany-colored floor in a mist of fog, creating the effect of trekking a moody maze.
I've hiked the trails of the Kahakapao Recreation Area many times in my 20 years as a Maui resident, often witnessing mountain cyclists negotiating its twists and turns. Today, however, will be my first turn on the trails as one of them.
I meet my best friend, an expert on biking these trails, at the recreation area's gravel parking lot. It's an excessively warm Saturday afternoon on much of Maui today. But here, the forest reserve's high-elevation location and shaded canopy create a temperature bubble 15 degrees cooler than even the Upcountry cowboy town of Makawao four miles downslope.  My friend has assured me that we can go at my pace, a big reason I've agreed to do this at all.
From the head of the Kahakapao Loop Trail—our chosen afternoon route—posted signage and well-marked bike trails make it easy to decide our fate. Open to mountain bikers, hikers and runners, the main loop trail and assorted other trails of Kahakapao are located between the 2,800-foot and 3,700-foot elevations of Haleakala. Trails range in length from a quarter-mile to 5.2 miles for the Kahakapao Loop, for both beginning and advanced mountain bikers.
During hikes, sunlight peeking through the forest canopy remind me of larger processes at work here between environment and ecosystem. The sun nurtures the undergrowth and my soul as I commune with the forest's native kalo (taro), various ferns and other flora. Exploration is slow, thought provoking and casually impulsive.
Bikers negotiate one of the many sharp turns on the Kahakapao Loop Trail. Photo by Sue Hudelson for HAWAII Magazine.
Today, I'm whizzing by all of it, making quick decisions, with my main concern being steering clear of closely spaced trees.
Rain is often a threat at this time of day, but we experience only a light misting. There are no fallen trees or branches on the trail today, but the speed at which I'm pedaling negates any such surprises. It's a snail's pace compared to that of a biker we pass who is warming up for the annual Xterra World Championship off-road triathlon, less than a day away and set for Kahakapao.
We follow him deeper and higher into the Makawao Forest Reserve, where the loop trail is damp and muddy from overnight rains, to a half-mile pump track. A pump track is a dirt course composed of various jumps, berms and bumps designed for mountain bikers to practice moves or race each other. Hidden 
beneath the trees, in the midst of nature, the course resembles a low-to-the-ground roller-coaster track, heavy with tire treads from escapades earlier in the day.
I take a shot at it, trying to avoid dangerous ruts in the pump track where I could lose momentum or fly over my handlebars. Riding the jumps and berms, I'm reminded of the similar thrills and chills of roller-coaster rides.
The trails of Kahakapao Recreation Area are managed by the state as part of its Na Ala Hele Trail and Access System. Established in 1988, the program constructs, restores and maintains hundreds of miles of trails and access roads throughout the Islands, largely through partnerships with community volunteers.
Maui has 22 Na Ala Hele sanctioned and managed trails scattered all over the island. As we continue pedaling our way on the loop trail, the quiet of the lush, massive forest interrupted only by the sound of our tires splashing mud and mountain winds coursing around thousands of trees, I realize why the slopes and summit of Haleakala are home to a full 16 of the Na Ala Hele system's Maui trails. It's almost too beautiful up here.
Still a novice mountain biker at the end of my afternoon ride, I head back to my car grimacing at the memory of jumping off my seat multiple times on the trail to walk my bike up inclines. I promise myself a trip back to Kahakapao to rack up more mountain bike miles on the Makawao Forest Reserve trails—much of it, hopefully, with me planted firmly on my seat.
There are dozens of other less-traveled trails left here for me to conquer. And if I'm not in the mood for mountain biking, there are always my own two feet.