Mountain, sea and spa in one package at Maui's Kapalua Villas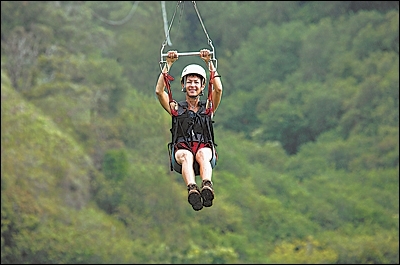 It doesn't take much to get me out and about. Land or sea, I love a good adventure.
So when I caught wind of Kapalua Villas' new adventure vacation accommodations package it sounded too good to be true.
How's this sound: zipline, a ride on a giant swing, kayak and snorkeling tour, and a private in-villa spa treatment. Prices start at $262 per person, per night.
Interested?
Personally, I'd love to do it all in a day. But Kapalua has wisely spaced it out over the course of three, allowing time for visitors to enjoy the beautiful sights Maui has to offer. (A required three-night minimum also keeps you at the resort longer, but, hey, why quibble?)
Day one appeals to the adventurous at heart. Zoom through the air on one of Kapalua's four ziplines—including the longest which runs 2,300 feet. Below your feet are the lush valleys of Kapalua. And the Kapalua coast and Moloka'i stretch out in the distance.
As if that isn't enough, you are then released, bird-like, to experience a free fall of several hundred feet. Web Editor and zipline aficionado Derek Paiva recommends this wholeheartedly.
Something more calming, you ask? On day two, you'll kayak from Kapalua Bay out to Namalu Bay and Hawea Point to snorkel among the colorful fish and marine life.
Finally, indulge in one of a variety of in-villa luxurious spa treatments, including a 55-minute massage, manicure or pedicure, because after a trip like this you can use the pampering.
Where do I sign up?
For more information, call (808) 665-4386 and be sure to ask for the Kapalua Villas Adventures package.