Music! Sunsets! Monk seals at night! Waikiki Aquarium summer concert series returns for 17th season.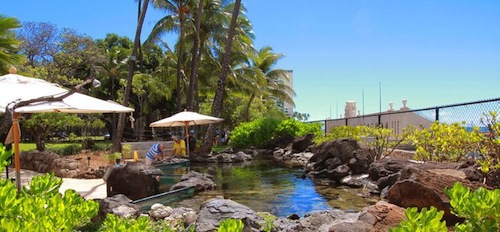 Nothing says summer in Hawaii like listening to Hawaiian music on a grassy lawn, with the sun dipping into the Pacific just behind you. And a pair of Hawaiian monk seals kicking back for the evening.
That's the scene at one of Oahu's most popular annual summer concerts series, Ke Kani o Ke Kai, hosted by the Waikiki Aquarium. Hawaiian for "the sound of the ocean," Ke Kani o Ke Kai kicks off its 17th annual season on June 12, with concerts happening every other Thursday through Aug. 7.
Tomorrow's concert will feature Hookena and Ben Malia, with featured restaurant The Grove serving up food and drinks for the evening. Doors open at 5:30 p.m. (for every concert), with performances running from 7 to 8:30 p.m. The galleries at the aquarium will remain open during the duration of the program, too, for guests to check out the nocturnal activities of its marine life.
Ke Kani o Ke Kai's four other concerts and restaurant pairings for the summer are:
• June 26: HAPA/Cyril Pahinui (with food from Kani Ka Pila Grille)
• July 10: Natalie Ai Kamauu/Mark Yamanaka (with food from The Grove)
• July 24: Weldon Kekauoha/Melveen Leed (with food from Da Spot)
• Aug. 7: Kuana Torres Kahele/Makana (with food from HASR Bistro).
Hookena. Photo: Waikiki Aquarium.
Over the years, Ke Kani o Ke Kai has attracted many of Hawaii's top musicians and up-and-coming artists. Yamanaka, who will be performing on July 10, took home four Na Hoku Hanohano Hawaiian music awards at ceremonies last month, including Album of the Year and Hawaiian Music Album of the Year for his 2013 album Lei Pua Kenikeni and Male Vocalist of the Year. Kamaau, who will performing with Yamanaka tomorrow, is also a multiple Na Hoku Hanohano award-winning vocalist.
Founded in 1904, the Waikiki Aquarium — the third-oldest aquarium in the United States — showcases more than 500 marine species and maintains more than 3,500 marine animals, fish and other specimens.
Low sand chairs and beach mats are preferred. Guests will be seated according to the height of their chair at the discretion of Waikiki Aquarium event staff.