Music! Sunsets! Monk seals at night! Waikiki Aquarium summer concert series returns.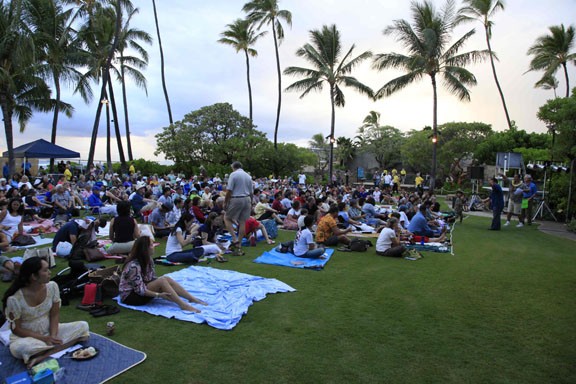 Live Hawaiian music. Great local food. A gorgeous Waikiki sunset. Hawaiian monk seals after dark.
All of the expected ingredients should be in place for the Waikiki Aquarium's annual summer concert series Ke Kani O Ke Kai—Hawaiian for "the sound of the ocean." The 13th summer season of evening concerts mixed with nighttime tours of the aquarium begins tonight. Doors open at 5:30 p.m. Concerts start at 7 p.m.
As usual, the series will feature a line-up of some of the Island's most celebrated contemporary Hawaiian music acts, playing live on the back lawn of the aquarium, bordering Waikiki Beach. Performing tonight's Ke Kani O Ke Kai's season opening concert is multi-Na Hoku Hanohano Hawaii music award-winning vocal and instrumental group Hapa—Nathan Aweau and Barry Flanagan (pictured, below)
The concert series continues every two weeks—always on Thursdays—through Aug. 12. Here's the full line-up of musicians set for the series this summer:
• June 17 – Hapa
• July 1 – Makana
• July 15 – Willie K.
• July 29 – Amy Hanaialii
• Aug. 12 – Hookena
The concerts are always a good time. The aquarium's back lawn is small—only 600 tickets are put on sale per show—so music fans always get a close-up view of the acts. All you have to do is bring a beach towel, beach mat or simply cop a squat on the grass, and enjoy the music. A different Oahul restaurant takes over the food booth at each concert so there's always something new for your dinner on the lawn.
This season's Ke Kani O Ke Kai restaurants are Kahai Street Kitchen (today), Rainbow Drive-In (7/1), Yama's Fish Market (7/15), Big City Diner (7/29) and Hula Grill Waikiki (8/12).
Our apologies to the musicians on stage at past Ke Kani O Ke Kai concerts. But we'd be lying if we didn't admit that one of our favorite things to do at the concert is sneaking away for a bit while the music is playing and enjoying the aquarium's exhibits after dark. The galleries are quiet. You'll have the aquarium's great staff of volunteer docents all to yourself. And, personally speaking, you haven't lived until you've seen Hawaiian monk seals (pictured, left) cavorting in their tank to live Hawaiian music.
Tickets are available for purchase at the Waikiki Aquarium front desk, by phone at (808) 550-8457 or online at www.honoluluboxoffice.com. For directions to the aquarium and more info, visit the Waikiki Aquarium website. Net proceeds from this year's concert series will be used toward the purchase of a photovoltaic system for the aquarium.
Another bit of advice: Arrive early for the best spots on the lawn. If you have to bring a chair, make sure it's a low-lying beach chair as not to obstruct anyone's view.
And don't forget to catch the sunset from the beach side of the aquarium's lawn while you're there. We really don't have to explain how awesome Waikiki summer sunsets are, do we?