Nāhuku Lava Tube is Closed Due to Safety Concerns
A fracture near an overhanging rock reveals structural faults in the popular walk-through lava tube at Hawaiʻi Volcanoes National Park.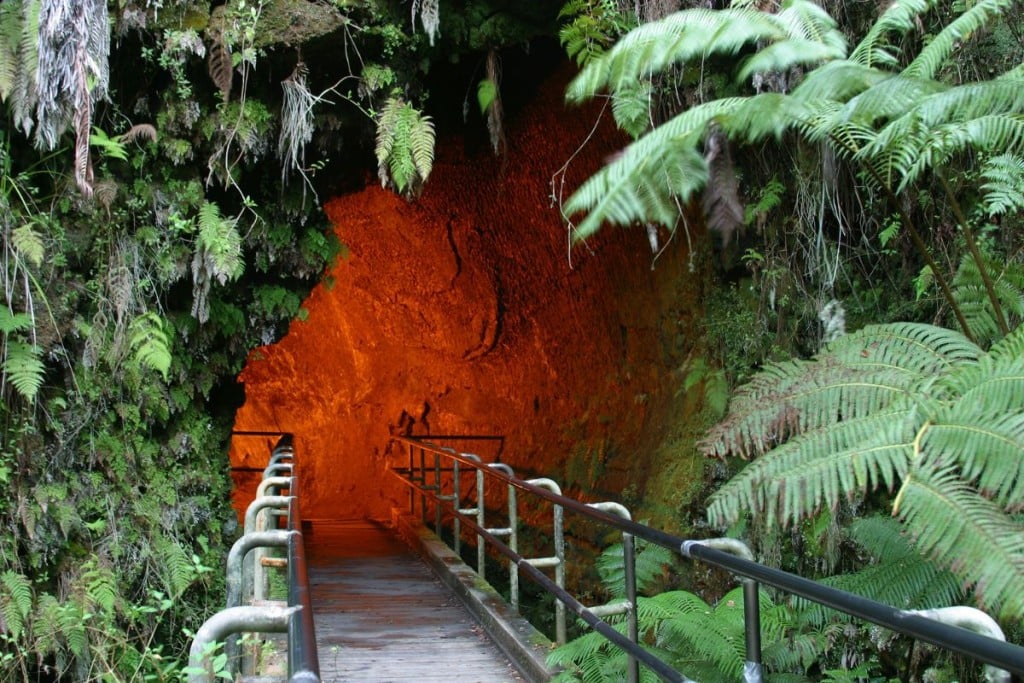 Nāhuku at Hawaiʻi Volcanoes National Park is closed until further notice—once again.  
The walk-through lava tube, formerly known as Thurston Lava Tube, is one of the top attractions at the national park. A half-mile loop leads visitors through a verdant rainforest to the 500-year-old cave.  
But on Sunday, park officials closed the lava tube.  
Dr. Eric Bilderback, a geomorphologist with the National Park service, alerted the park that the crack meter in the middle of Nāhuku moved 1.96mm Saturday night over the course of just several hours.  
The data from the crack meter reveals a fracture near a large overhanging rock slab is narrowing. The movement could indicate the crack is adjusting to other fractures that are widening in the lava tube. But as a result, the large overhead slab of rock is unstable and potentially dangerous. The slab measures about 7 feet by 10 feet and is roughly 8 inches thick.  
According to Bilderback, the activity is slow. However, these movements of a large rock slab are unusual. Prior to the fracture changes over the weekend, data reveals hardly any shifts in the cave's structural integrity. There was less than 1mm of movement since November 2019. For the lava tube to be considered safe to reopen, previous levels of activity would need to return. And the park is unsure how long this will take because by Monday morning the slab moved another 0.55mm. 
This is not the first time Nāhuku has experienced an odd closure.  
The lava tube was closed for nearly two years due to the 2018 Kīlauea eruption. The destructive activity forced a 134-day shutdown at the park, the longest in its history. But the lava tube was closed for an unprecedented 658 days. It finally reopened in February 2020 but then closed a month later with the onset of COVID-19. During the closures, ʻōhiʻa trees were able to expand their roots surrounding the cave and colonies of white microbial matter began to thrive on the cave walls. A year later in March 2021, the trail through the cave finally reopened. Once again, the park is closed in 2022 until further notice.
For more information, visit nps.gov/havo/learn/news/index.htm.