National Memorial Cemetery of the Pacific hosts POW/MIA Recognition Day ceremony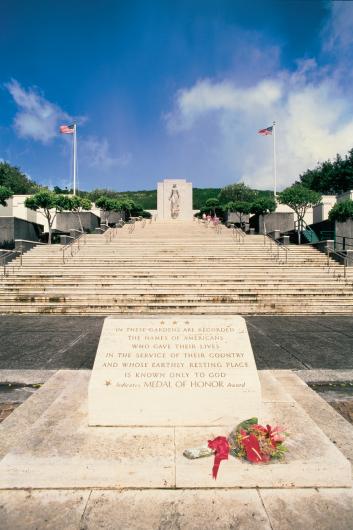 The National Memorial Cemetery of the Pacific at Punchbowl is hosting a ceremony open to the public today at 10 a.m. for POW/MIA Recognition Day to remember those brave servicemen and women that were prisoners of war or missing in action.
"[Punchbowl] is an important landmark for veterans of our community and it's the perfect place to hold the ceremony, " says Department of POW/MIA Accounting Agency (D.P.A.A.) spokesperson Lee Tucker.
There will be a wreathing ceremony conducted by various military veterans groups; a reading of the names of service members that were found by the D.P.A.A. in the last year; and the keynote speaker of the event is Vice Chairmen of National League of POW/MIA Families Mark Stephenson. He is the eldest son of U.S. Air Force Colonel Mark Stevenson who went missing in action during the Vietnam War.
According to Tucker, there are still 83,000 service members that are still missing from World War II and the wars that followed till today. The mission of this federal organization is to find these POW/MIA service members and return them home to their families.
"It's amazing how many people don't realize that we still search for our missing service members," says Lee, "so having a moment where we recognize those individuals that we've accounted for provides some closure for their families and making it known that we are still searching for these service members is an important thing."