Need a Coffee Fix? Talk to This Coffee Scientist in Hawaiʻi
O'ahu-based coffee scientist Shawn Steiman has written books and papers on his favorite caffeinated crop and runs his own international coffee consulting business.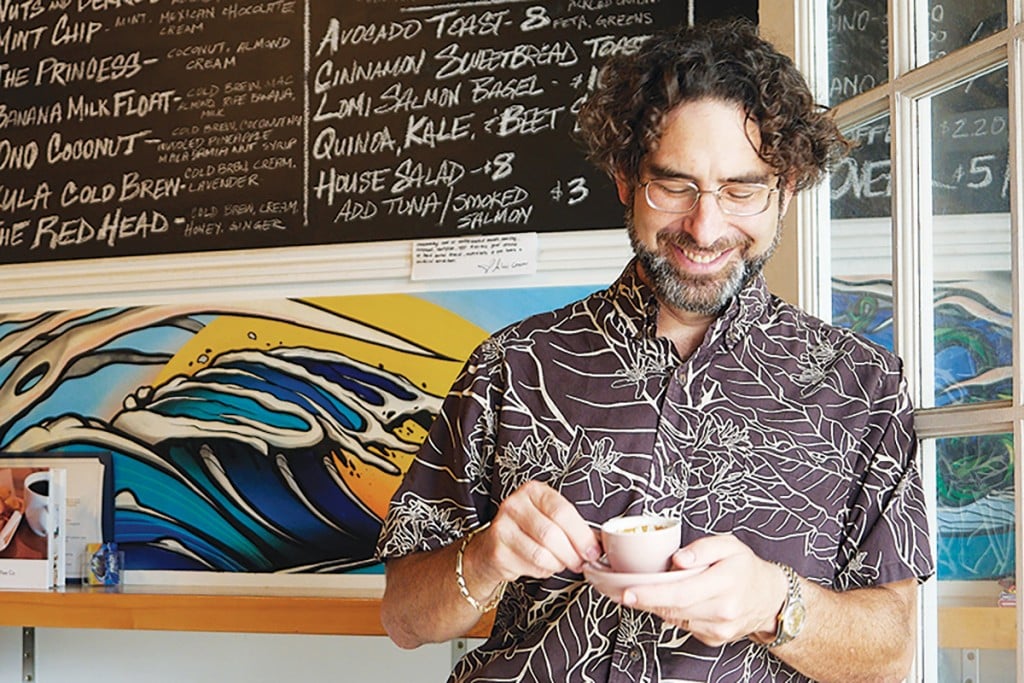 Some people have their first cup of coffee in their late teens, maybe early 20s, and some never have coffee at all. Shawn Steiman, who has more than earned his moniker, "Dr. Coffee," had his first cup at age 10, and he's still buzzing. Steiman is, without a doubt, one of the most knowledgeable individuals in the field of coffee in Hawai'i. Trust us, he knows a latte. Born and raised in Kansas City,  Missouri, Steiman moved to O'ahu two decades ago to obtain a master's degree, and eventually a doctorate, in horticulture from the University of Hawai'i at Mānoa—and to further pursue his studies of coffee in the only state in the U.S. to grow the crop. Steiman has written multiple books about coffee, republishing one of his first with updated information, "The Hawai'i Coffee Book: A Gourmet's Guide from Kona to Kaua'i" in 2019. And he runs a coffee consulting business, Coffea Consulting.
LISTEN NOW: Episode 24 of "Have Aloha Will Travel" Podcast Features Shawn Steiman
When did your infatuation with coffee begin? 
According to my mother, she would give me milk and coffee when I was a toddler. Not a lot, but some. What I do know is that in the fifth grade, I went to a café that was owned by a friend of ours and wanted to get a cup of coffee. The woman said, "No, you can't have coffee unless you bring me a note from your mother." And so I brought a note from my mother and she gave me a cup. 
Is there a reason or draw as to why you've devoted so much of your life and studies to coffee, specifically?  
At some point, I became a person who really developed a lot of joy from tasting things. And coffee was my first big thing. Presently, I love being intellectual with taste. I like to take a taste and dissect it and think about it and put it together and really work it over. I get a lot of pleasure from that. And coffee has so much variation; you can find coffee that tastes like coffee and also find coffee that doesn't even really remind you of coffee. And to me that experience is fun.
To you, what is a "good" coffee? Is there anything specific you're looking out for? 
If it doesn't taste like something has gone wrong in the brewing process—it doesn't taste moldy, or sour, or bitter, or burnt—the coffee's OK. What I really like are coffees that have a floral component to them and a stone fruit flavor, like an apricot or peach. I love those. But sometimes I'm busy; I have a toddler, and if someone gives me coffee and it tastes like coffee, OK, I'm happy with that. There's a range of what "good" is for me, and it's a pretty big range. 
You've recently republished "The Hawai'i Coffee Book," which originally came out in 2008. Why now? 
There's a bunch of reasons. The book is an introduction to coffee, covering everything from seed to cup. Nothing is exceptionally in-depth, but it talks a little bit about farmers and farming and roasting and drinking. But the original looked horrible. I wrote this text full of information that nobody ever read, partly because people judge a book by its cover and ours was spiral bound. So a part of me just wanted to have a good representation of what this could be, and I also wanted to update aspects of the book that needed updating. 
Has any specific aspects of the coffee culture in Hawai'i changed since the book was first published? 
There's a much bigger café scene now, which is evident in Honolulu, but also I was on Kaua'i a few months ago and they've got a very impressive coffee community of cafés and roasters. We also have more farms now than we had, which came as a huge surprise to me when I was researching. I thought we were going to see a big crash after this pest [coffee borer beetle] came. We have also gone from harvesting and processing coffee one way, as an industry, to all different kinds of experimentation and playing around. Farmers now are trying to push the limits of the flavors they can produce.