New and Notable Reasons to Visit Doris Duke's Shangri La Estate
The dreamy Oʻahu estate-turned-museum that once belonged to a Hawaiʻi heiress is well worth visiting—or revisiting—for these features.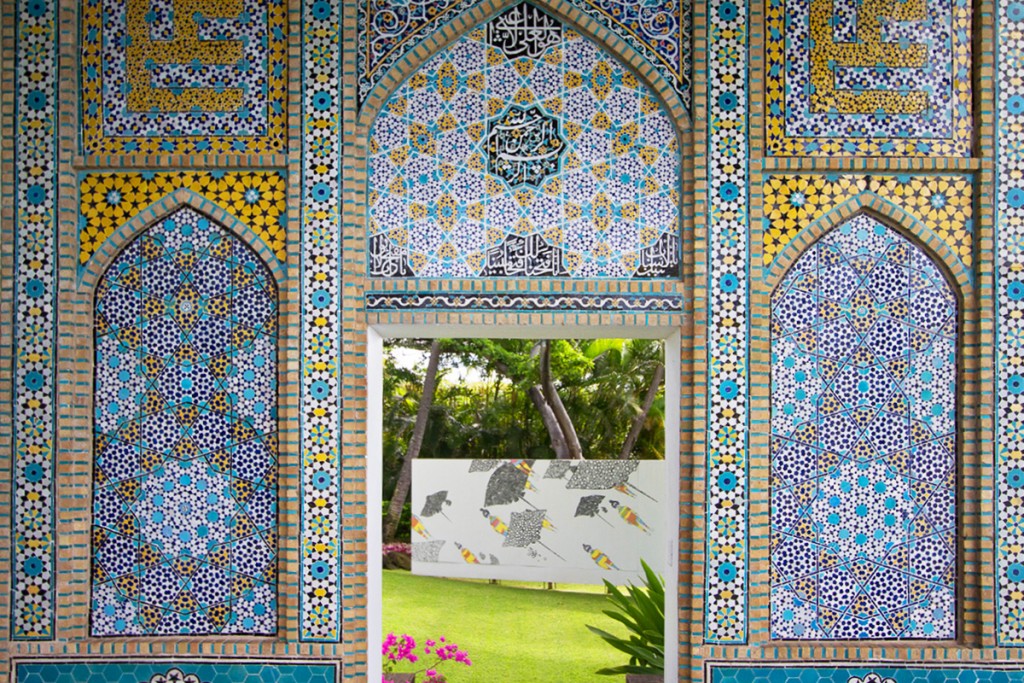 Nestled on the slopes of Oʻahu's famous Diamond Head is an unexpected and opulent treasure: the estate-turned-museum of billionaire American heiress and philanthropist Doris Duke, once dubbed "the richest little girl in the world." Of the many homes that the heiress owned, Shangri La is the only one that she built from the ground up and filled with a priceless, one-of-a-kind collection of Islamic art purchased from Iran, Turkey, Egypt, India and many other countries.
Duke's colorful life included traveling the world, working as a foreign correspondent and being one of the first non-Hawaiian women to take up competitive surfing (she learned from surfing legend and Olympic swimmer Duke Kahanamoku).
Shangri La, which overlooks the ocean and is overseen by the Doris Duke Charitable Foundation, reflects the vivacity and eclectic interests of its former owner. From the moment you step through the front door and into the foyer, there is so much to see, from the intricate courtyard to the master bedroom, bathroom and powder room.
One change that previous visitors will note is the recent rearrangement of several of the rooms into "galleries," which puts more focus on the art rather than the life story of Shangri La's former owner.
"Museums have a special purpose in American life," said Konrad Ng, the executive director of Shangri La. "They must be relevant to public conversations that enrich our understanding of the world and of ourselves—and Doris Duke's vision for Shangri La was to be precisely that. Rather than show how she lived at Shangri La, [it] shares how the worlds captured by our collection so inspired her to love art, be curious about the globe and dedicate herself to philanthropic causes."
Current and Upcoming Exhibitions at Shangri La
Rani and Malka: Royal Women from South Asia
This gallery is an exhibit of rarely seen selections from Doris Duke's manuscript collection depicting royal women from South Asia. On display until the end of August 2020.
Cycles
Two original site-specific murals by Honolulu artist Kris Goto, currently on view in the Moon Garden.
Exile & Rebirth
Mural completed on-site at Shangri La by artist Reem Bassous in 2018. Currently on view by the pond next to the Mughal Galleries.
My People
Two-part mural completed on-site at Shangri La by Lebanese-Egyptian artist-in-residence Bahia Shehab during her August 2018 residency. Currently on view in the Banyan Courtyard.
Ayodele Drum and Dance
Members of African female performing artist troupe Ayodele Drum and Dance will be at Shangri La from Feb. 14 to 23 for community workshops and live performances. They will also appear off-site at the Hawai'i State Art Museum on its "Super Saturday" program on Feb. 22.
Kamran Samimi, artist-in-residence
During this unique residency, Kamran Samimi, a resident of Laupāhoehoe on the Big Island with an Iranian/Scandinavian background, will be creating original artworks for two exhibitions. One is tentatively scheduled from April 4 to June 28 at Shangri La's gallery of Islamic art at the Honolulu Museum of Art; the second will be at Shangri La from Aug. 1 to Oct. 31. Informed by an interest in universal forms, Samimi's work encourages the contemplation of identity and one's relationship to the environment.
Advance reservations are required to tour Shangri La. Guided tours begin at the Honolulu Museum of Art at 900 S. Beretania St., and include 15-minute van transport to the estate. Tours are offered Wednesday through Saturday at 9 a.m., 10:30 a.m., noon and 1:30 p.m. General admission is $25; $20 for Hawai'i residents. Children under 8 are not permitted on the tours, which last about 2½ hours. To book a tour, visit honolulumuseum.org/4883-tours_shangri_la. To find out more about Shangri La, visit shangrilahawaii.org.