New app helps you book last-minute tours in Hawaii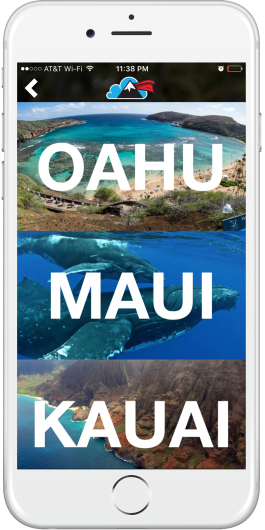 Every new year, there are innovations in technology and, in 2016, the Activiter app is looking to innovate the way travelers to Hawaii book tours. Geared towards those who schedule activities last minute, this mobile-only application allows tour providers to fill vacant seats to spontaneous customers at a discounted prices. Available on the Apple App Store and Google Play, the Activiter app offers deals on various land and ocean activities on Kauai, Oahu, Maui and Hawaii Island so far.
The app was created by two Native Hawaiian entrepreneurs, Rob LaFontaine and Ikaika Sheehan, who got the idea of a "platform for spontaneous decision makers to access the best deals on last minute tours, activities, attractions and events" while on a trip to Las Vegas. After observing a long line of 50 people waiting to purchase half-priced tickets to activities, tours and shows, they had an "aha moment."
"We are always trying to be efficient with our time and we were like, 'There's got to be an app for that.' And, of course, we're on our phones looking for apps and there's slim pickings."
Their futile search in Nevada spawned the initial concept and the young entrepreneurs came home inspired to adapt their idea to Hawaii's visitor market. Activiter COO Ikaika Sheehan was the driving force behind the name of the app.
"It's the verb of 'to activity' and I'm not an English guy, but it's 'to do' or 'to go do something now' is how we understand it," says Sheehan. "We built [Activiter] internally and it took us about four months from concept to finished product so between the two of us we made it happen."
Having no previous experience in app development, the two learned how to build Activiter through Internet research. Although this is their first attempt at making an app, Activiter is surprisingly functional and easy to use. Whether it's a zipline tour on Maui from 7 Line Zip Tour, or a pelagic tour with Island View Hawaii on Oahu, Activiter allows people to be spontaneous and save money at the same time.