New Hawaii burger joint part of Daniel Dae Kim's post-Lost plans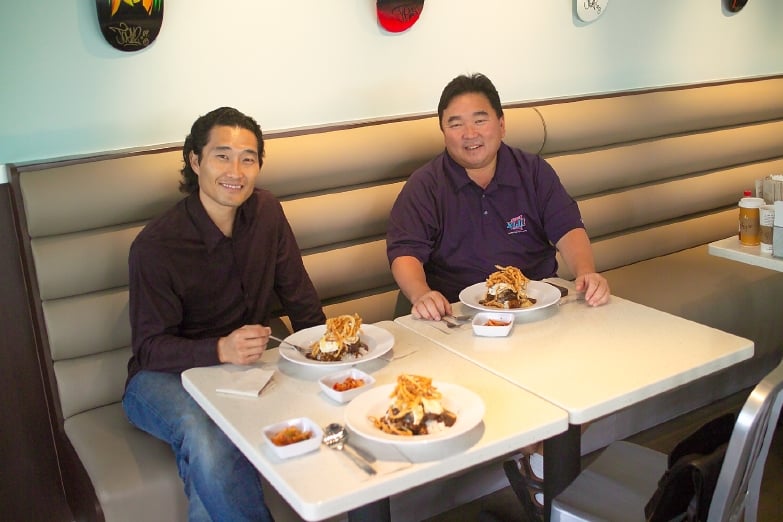 I recently had breakfast with Lost actor Daniel Dae Kim—and well-known Hawaii restaurateur, DK Kodama—at their new Hawaii restaurant. The two are partners in The Counter, a build-your-own burger place in Kahala Mall (a sizeable neighborhood mall in East Honolulu that also houses a Whole Foods, and an Apple store, among other retailers).
What was for breakfast at the burger joint? That Hawaii favorite: a loco moco, with kim chee on the side. (For those who don't know: A loco moco is a mound of rice topped with a hamburger patty and a fried egg, all of it smothered in brown gravy. Kim chee is the Korean national dish, a highly spiced preserved cabbage.)
"I can't tell you how great it is to live in a place where everybody knows what kim chee is," said Kim, whose investment in the California-based franchise chain restaurant—the first of three planned for Hawaii—is a way of setting down roots in the Islands. He wants to stay here after Lost wraps up production in spring 2010.
Kim's wife and children are Korean—"Korean-American," he points out, "but the beauty of Hawaii is that the American is assumed. Nobody thinks of you as foreign here because of your ethnicity."
Hawaii is the first place where he's felt completely accepted. "I want that for my children. It's the way the rest of the world should be."
He hopes, of course, that movie roles will come a-calling, too, after Lost. But The Counter is now his stake in the community—and things seem to be going well.
The place is already packed with local families, and members of the Lost cast including Josh Holloway, who dropped by for lunch with Kim last Saturday.