New Murals Bring Life to Downtown Līhu'e
Five murals were painted by teams of Kaua'i artists during last year's NirMānāFest—and here's how you can see them.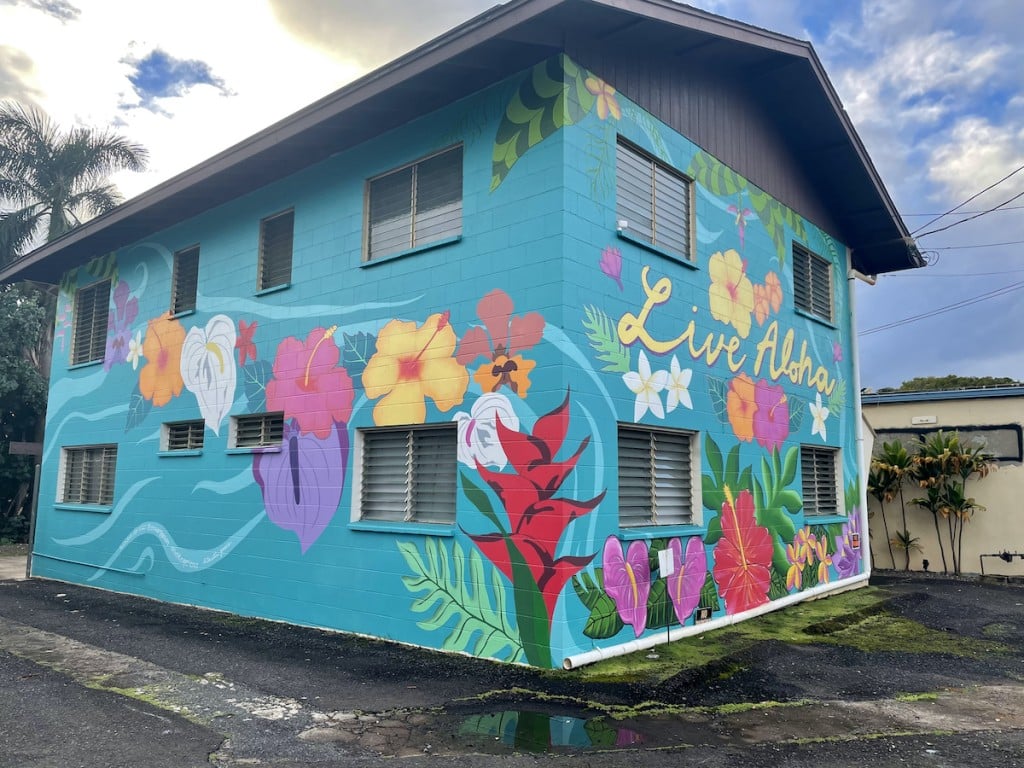 What were once plain, tan and brown walls typical of a government building are now filled with color thanks to the addition of three new murals painted in 2020—all of which you can see just walking the historic neighborhood.
The murals depict a scenic valley and sunset, native birds and flowers, colorful geometric shapes, a woman rising out of the water, and the phrases "trust your journey" and "mauka makai" (mauka meaning "toward the mountains" and makai meaning "toward the sea").
They were painted in October 2020 as part of NirMānāFest, a weeklong, yearly festival meant to highlight the creative talents of Kaua'i artists and bring them together to collaboratively revitalize the Rice Street area in Līhuʻe. The event's name comes from a Sanskrit word "nirmana," which means "transformation" or "creation," says Seth Womble, the event's creator.
2020 was the festival's inaugural year, though Womble says the event had to be scaled back because of the pandemic. While the public was still invited to observe the artists at work, larger, in-person gatherings and parties were replaced with videos on Instagram and Facebook to keep the broader community updated on the artists' progress.
"It became, essentially, the only thing that happened last year for the community, for Kaua'i, and it became a very meaningful thing just out of the timing of it happening last year," Womble says. "I guess it's something I get a little bit hung up on because I don't know if it could have ever been as impactful or meaningful had it not been 2020 been the inaugural year for it."
Five teams of three artists painted five walls. In addition to the three murals at the Pi'ikoi building (at the Līhu'e Civic Center), other mural locations included a two-story apartment building on Ewalu Street and the adjacent building that houses WB's Restaurant & Grill on Umi Street. The average mural size for the five walls was 1,000 square feet.
Bethany Coma, an elementary school art teacher, worked on the mural at WB's Restaurant & Grill with Kayti Lathrop and Natacha Palay. The mural showcases a fire-breathing dragon that wraps around the building and a coin that depicts the Chinese zodiac calendar, so visitors can see what their zodiac signs are.
"I love that we added, like, a part where you can interact with the mural, you can go up to it and see all the names of animals because I know lot of people don't actually know their Chinese zodiac …" Coma says.
Womble, a mural artist himself, says that mural was also one of the more difficult locations to work on because it had different textures, angles and surfaces that needed to be painted. That location and the apartment building next door were also exposed to the elements, and artists braved wind, rain and harsh sun as they painted.
At the Pi'ikoi building, artists Trysen Kaneshige, Lucas Murillo and Nick Arnold wanted to include a positive affirmation in their mural. They chose "Trust Your Journey," a message meant to provide hope to those going through a rough time, says Kaneshige, who worked on the lettering.
"I hope for the kids, they have something to look at as visual inspiration, community as well, because we've been going through a lot as a community with mental health right now," he says. "So hopefully it can inspire other people and that it's going to be OK, you have to trust your journey."
One of Womble's goals for the event was to break the stigma many people have that painting murals will eventually lead to graffiti and tagging.
"What actually happens is it activates the space and there's community pride in it, there's storytelling in it, and there's sharing so that other people can show it, when they do get visitors to come back, they can show these things off," he says.
The NirMānāFest murals also add to existing murals that have been popping up in Līhu'e and around the island. Womble, for example, helped paint murals at the Tanaka Store building and the east-facing wall of the Pi'ikoi Building in Līhu'e earlier in 2020. New murals have also been painted at Hale 'Ōpio Kaua'i and Kaua'i Beer Company in Līhu'e, Salt Pond Beach Park in Hanapēpē, the Kekaha Thrifty Mini Mart, and 'Anini Beach Park in Kīlauea.
NirMānāFest will return to Līhu'e this year from Oct. 17 to 24 and will include locations in Kapa'a and Hanapēpē. Womble hopes to expand the number of artist participants to 30—who will again work in teams of three—and the plan is for participating artists to also give talks and display their work through a gallery exhibition.