New USPS 'Forever' Stamp Honors the Battleship USS Missouri
The stamp's release coincides with the 75th anniversary of the USS Missouri's commissioning on June 11, 1944.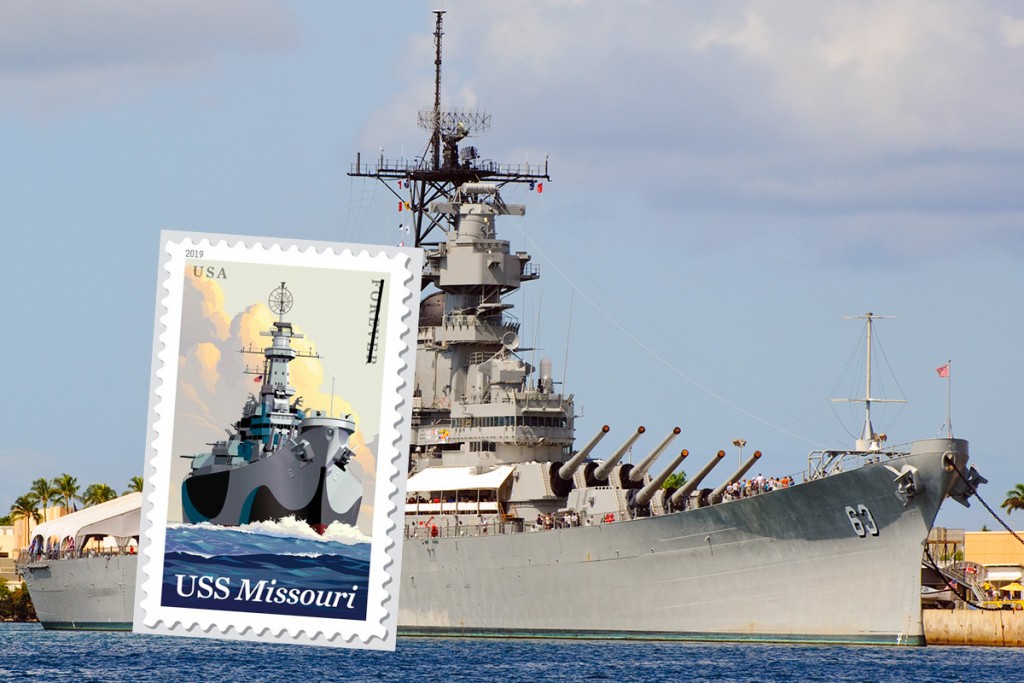 The iconic American battleship USS Missouri, based at Pearl Harbor, Oahu and affectionately known as the "Mighty Mo," has her own postage stamp now.
On June 11, 2019, the U.S. Postal Service celebrated the USS Missouri (BB-63) with the release of this new Forever stamp, coinciding with the 75th anniversary of the ship's commissioning on June 11, 1944.
Designed by art director Greg Breeding and artist Dan Cosgrove, the stamp depicts a digital illustration of the great battleship in the disruptive camouflage paint she wore from her commissioning until a refit in 1945, with gold- and rose-tinged clouds in the background.
It's a fitting tribute to the last American battleship that played such a historic role in World War II and served as the site for Japan's official surrender on September 2, 1945. During her decades of service, the USS Missouri earned numerous combat awards and citations, which also included deployments during the Korean War and Operation Desert Storm. Decommissioned in 1992, the ship now rests as a memorial and museum at the Battleship USS Missouri Memorial in Pearl Harbor.
SEE ALSO: Watch: A tour of the Battleship Missouri Memorial at Pearl Harbor, Oahu 
Forever stamps will always be equal in value to the current First-Class Mail one-ounce price.
You can purchase the stamp through the Postal Store at usps.com/shop, by calling (800) STAMP24 (800-782-6724), by mail through USA Philatelic or at post office locations nationwide.