NFL Pro Bowl Hawaii return scores biggest TV audience for game since 2000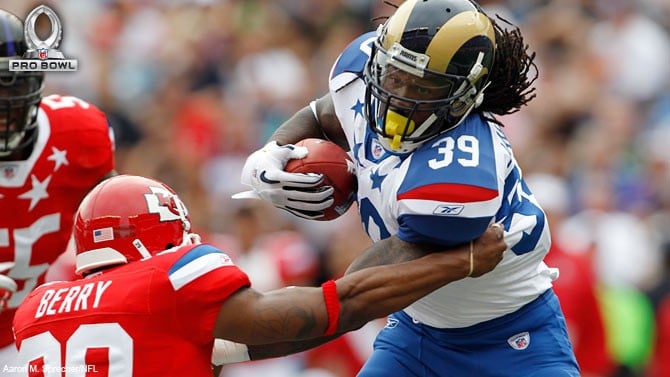 The return of the NFL Pro Bowl to Hawaii after a year away scored the biggest TV audience for the all-star game since 2000.
According to Nielsen TV ratings, the 2011 Pro Bowl, broadcast on the FOX Network, drew 12.4 million viewers, an uptick of 37 percent from the game's 2010 ratings. After hosting the game in Miami last year, the National Football League moved the Pro Bowl back to Oahu's Aloha Stadium, for the first game of a two-year contract keeping it in Hawaii. Prior to the one-year move to Miami, the all-star game had been played in the Islands every year since 1980.
Hawaii is paying $4 million per game to hold the Pro Bowl this year and in 2012. The NFL hasn't selected Pro Bowl locations for 2013 and beyond.
The NFC all-stars defeated the AFC all-stars in Sunday's game, 55-41.
Only 49,331 tickets were issued for Sunday's Aloha Stadium Pro Bowl return—the second smallest ticket distribution ever. About 45,000 fans attended the game, which had been a sellout in each of its previous years at Aloha Stadium.
A factor in lower Hawaii fan attendance may have been the all-star game's lack of any players from this year's top AFC and NFC conference teams: the Pittsburgh Steelers and Green Bay Packers, facing off in next Sunday's Super Bowl XLV. The 2011 Pro Bowl marked the second year in a row that the game was held a week before the Super Bowl instead of a week after it.
Still, according to multiple news outlets, NFL players selected for the all-star game seemed happy to have the game back in Hawaii. Baltimore Ravens linebacker Ray Lewis told the Associated Press yesterday that playing the Pro Bowl in Hawaii was reward enough for being named to the all-star team.
The biggest TV audience the Pro Bowl has drawn was 13.5 million viewers in 1997.