NFL Pro Bowl players arrive in Hawaii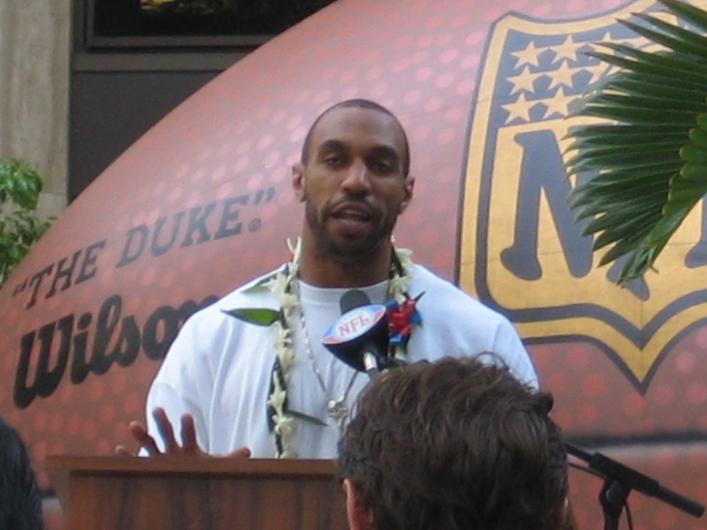 Players and cheerleaders in town for Sunday's NFL Pro Bowl turned up in downtown Honolulu today for the game week's official kick-off celebration.

They were in Bishop Square—next door to HAWAII Magazine's offices—posing for pictures and signing autographs for a thousand-strong crowd of fans and the just plain curious. One of the latter—oddly fascinated by a 20-foot high inflatable football visible from our offices—I headed across the street with associate editor Sherie Char.

We immediately got a surprise welcome from Tennessee Titan mascot T-Rac, who snuck up from behind and held us in a headlock. (That's T-Rac with Sherie in the pic.) Mascots from the Minnesota Vikings, Cleveland Browns and Jacksonville Jaguars were hamming it up for the crowd, rollerskating and dancing to always-raring-to-play-a-party Honolulu music group Kapena.

This is the Pro Bowl's 29th year in Hawaii. We pay millions to bring the game here. The game brings thousands of NFL fans to our shores. And football fans in Hawaii—still a state with no NFL team of its own—get to see the pros in action at Aloha Stadium.

An over-much-too-quickly dance routine by the NFL Pro Bowl cheerleaders brought hundreds of cameras out early on. Legendary Hawaii vocalist and "Ambassador of Aloha" Danny Kaleikini was up next with an invocation in Hawaiian. Speeches were given by a few dignitaries, including Honolulu Mayor Mufi Hannemann and NFL senior vice president of events Frank Supovitz. (Talk about moving from one high-profile gig to another … Supovitz just got off Super Bowl duty on Sunday.)

Finally, a quartet of players from the NFC all-star team got some time at the mike to say a few words.

Arizona Cardinals defensive tackle Darnell Dockett talked some mild smack about the AFC's chances of winning. (Slim to none, apparently, if you believed his brio.) Chicago Bears defensive tackle Tommie Harris confessed about Hawaii, "I love this place so much, I got an 808 phone number!" (Hawaii's area code is 808.) And last up, Seattle Seahawks outside linebacker Julian Peterson (pictured above) joked that Dockett, Harris and Bears special teamer Brendon Ayanbadejo—impressive public speakers and budding comedians, all—had stolen all his best lines.

The four hung around afterward, in the shadow of the giant pigskin, to sign autographs for a lengthy queue of fans.

So … are you cheering for the NFC league or the AFC league this weekend? Or did last weekend's Super Bowl effectively end football season for you?