NFL to stage 2013 Pro Bowl in Hawaii, one week before New Orleans hosts Super Bowl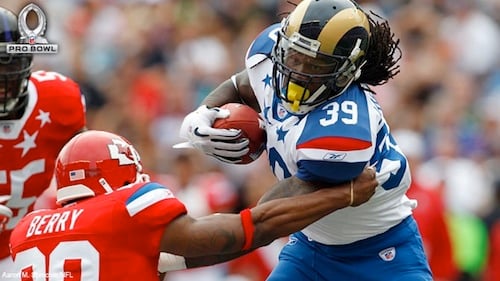 The National Football League announced yesterday that it will stage its 2013 Pro Bowl in Hawaii.
The all-star game, in which the NFC (National Football Conference) squares off against the AFC (American Football Conference), is slated for Jan. 27 at Oahu's Aloha Stadium — one week before New Orleans hosts Super Bowl XLVII. The Pro Bowl will be broadcast on NBC, according to news reports. During the week preceding the game, Pro Bowl Week, fans will have opportunity to meet some of the players and cheerleaders and take part in annual festivities.
The bowl game was held at Aloha Stadium for nearly three decades, from 1980 to 2009. In 2010, it moved to Sun Lite Stadium, home of the Miami Dolphins. In 2011, the National Football League moved the Pro Bowl back to Aloha Stadium for the first game of a two-year contract keeping it in Hawaii.
According to Nielsen TV ratings, the 2011 Pro Bowl, broadcast on the FOX Network, drew 12.4 million viewers, an uptick of 37 percent from the game's 2010 ratings. But enthusiasm for the two-year contract has been a subject of debate for Hawaii Gov. Neil Abercrombie and others who have questioned its requirement for the state to pay the league $4 million a year to host the bowl. (According to news reports, the state will pay $4.2 million to host the 2013 game.)
Also, earlier this year, NFL officials considered canceling the 2013 all-star game after complaints about lusterless play in January's game, a 59-41 AFC victory. According to news reports about the 2013 bowl, players are now pledging to bring a more competitive game to Oahu for the 33rd Pro Bowl in Hawaii.
In a news release issued yesterday by the Hawaii Tourism Authority, its president and chief executive officer, Mike McCartney said: "We are extremely pleased the NFL will return to the Hawaiian Islands in 2013 for the Pro Bowl, and are grateful for our more than 30-year partnership."
McCartney added, "Hawaii looks forward to building upon our longstanding relationship with the NFL Pro Bowl well into the future. We will work closely with them to create a quality game and incomparable Pro Bowl experience here in our Hawaiian Islands."
For more information about the NFL Pro Bowl, click here.