Niihau's Luxurious Shell Lei are the Islands' Most Covetable Jewelry
Only the most skilled hands know the intricacy required to weave them.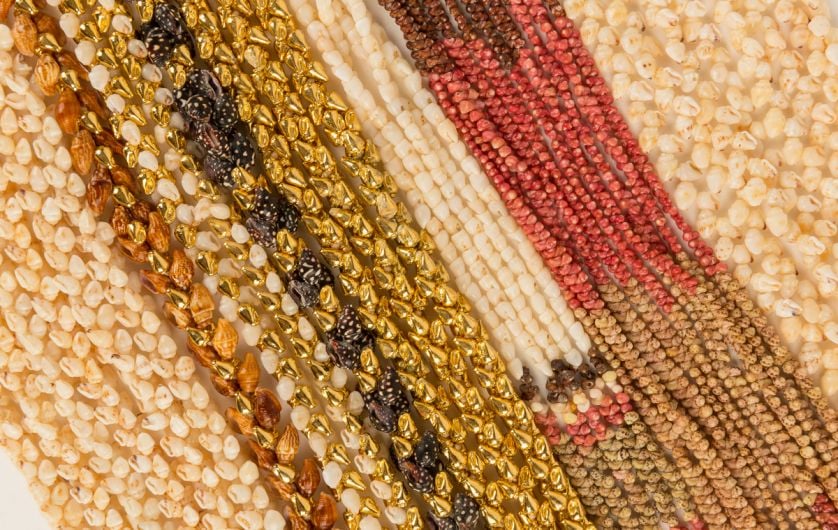 Only the most skilled hands know the intricacy required to weave Hawaii's most precious shells into uniquely Hawaiian jewelry. The highly prized pupu o Niihau (Niihau shells) can only be found on the shores of The Forbidden Island and require acute patience, as a single strand can take several years to complete. These natural ocean gems come in a variety of colors, from bright white and yellow to pink, and even spotted white and black shells—evidence of nature's artistic license.
A small hui (group) of artisans fashion the delicate shells into masterful lei and bold statement jewelry, including Mama Ane Kanahele, one of the foremost experts in the art of Niihau lei making, with her ohana. Continuing this treasured tradition alongside the Kanaheles is celebrated Hawaiian musician Kuana Torres Kahele, whose jewelry line, Kuana Hawaii, features 14K-gold- and 14K-white-gold-dipped Niihau shells, transforming the magnificent natural beauty of traditional shells into modern-day fashion opulence.
In the portrait, above, the model is draped in a variety of Niihau lei styles, from lei to earrings. Pictured: Three-strand long pikake-style lei (Vintage Collection from Antiques & Treasures, $6,900); Five-strand multicolor Maunaloa-style kahelelani lei (Mama Ane Kanahele ohana, $15,900); large cluster earrings by Kaleialoha Roback ($160). Available at Na Mea Hawaii.
Also displayed on the model is aforementioned and more modern interpretation of this prized jewelry: Single-strand shell lei dipped in 14-carat gold (Kuana Hawaii, $3,000). Available here.