Noodle Star: Shige's Saimin Stand on Oahu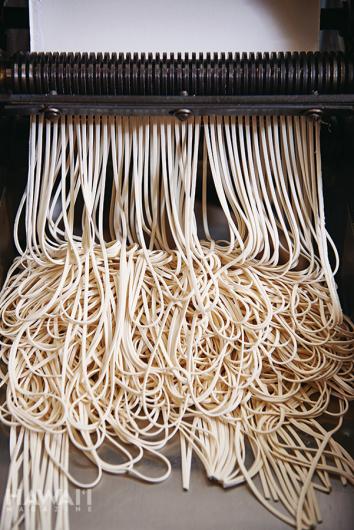 It's just after 8:30 a.m. and Ross Shigeoka is well into finishing the first of four batches of saimin noodles he plans to make today.
He's already mixed the noodle dough recipe—a straightforward combination of eggs, water, all-purpose flour and salt—in a big plastic bowl with a shamoji (Japanese rice paddle) until fluffy and dry, almost like oatmeal. The dough has been rolled out with a weighted PVC pipe, a method Shigeoka's grandfather perfected with a bamboo pole. Now, Shigeoka feeds flattened dough into the maw of a circa 1957 Japanese noodle-making machine that rolls and cuts the fresh egg noodles that are the star ingredient of the namesake dish at Shige's Saimin Stand.
In about two hours, the doors of this friendly, hole-in-the-wall eatery in the central Oahu town of Wahiawa will open. People will order bowls of Shige's iteration of the old-style, born-in-Hawaii noodle dish without glancing once at the rest of the menu. Many will order their saimin with an accompanying skewer of grilled teriyaki beef. Some won't. But after a full morning of noodle making, all will be right in Ross Shigeoka's world.
"To me, saimin is the ultimate comfort food," says Shigeoka, still feeding flattened dough into the noodle-making machine's rapidly spinning rollers. Once ubiquitous, neighborhood saimin stands like Shige's are increasingly tougher to find in modern-day Hawaii. Saimin stands that make their own handmade, from-scratch noodles in-house? A rarity. But Shigeoka will fire up his noodle maker a dozen times today before opening to make all the fresh saimin noodles Shige's will need to satisfy saimin-jonesing customers.
"I don't get tired of it," he says.
Saimin is a favorite, arguably iconic, Hawaii comfort food dish dating back to the Islands' sugar- and pineapple-plantation eras. A contraction of the Chinese words "sai," meaning "thin," and "mein," meaning "noodle," saimin differs from Japanese ramen and Vietnamese pho primarily in noodle choice and the simplicity of its basic recipe. Saimin noodles contain egg and become curly and slightly chewy when cooked. The noodles are served in a hot dashi broth, usually crafted from shrimp, mushroom, ginger and konbu (dried kelp). After that, garnishes run the gamut from thinly sliced kamaboko (fish cake) and chopped green onion to slivers of Spam, char siu pork or nothing at all.
"Saimin is one of those classic local meals that transcends specific ethnic origins," says Arnold Hiura, author of Kau Kau: Cuisine & Culture in the Hawaiian Islands (Watermark Publishing, 2009). "It meets the key criteria of economy, taste and substance. It's cheap, the taste is all in the dashi and texture of the noodles, and it satisfies your hunger pangs."
Neighborhood saimin stands like Shige's were commonplace for about a half-century beginning in the 1930s. Small and family run, the typical stand would have a handful of tables, maybe a counter with seats, and a window where customers could place their orders. The menus were as basic as the decor: bowls of saimin noodles in dashi served either plain or with soft wonton dumplings, teriyaki beef or chicken on skewers, fried saimin noodles and, maybe, shrimp tempura or teri hamburgers.
Though saimin remains a popular dish with Hawaii residents, only a handful of venerable neighborhood family stands remain. Shige's is a relative newbie to the group, having opened in 1990, but its saimin roots run deep. In the 1950s, Shigeoka's grandparents, Fujimatsu (he of the bamboo pole rolling technique) and Yoshie Nakai, sold bowls of saimin for 25 cents each at their stand in Haleiwa town on Oahu's North Shore.
Shigeoka still remembers the heady satisfaction of bolting to his grandparents' stand, after surfing North Shore waves, and consuming a bowl of their chewy, homemade noodles and warm, comforting broth.
"I grew up around it," says Shigeoka, his tanned arms and legs white with flour. "And I remember, I used to love the smell. The broth. The noodles. It all brings back so many memories."
Those memories proved reason enough for him to open Shige's Saimin Stand in Wahiawa in March 1990, a few years after his grandparents closed their Haleiwa stand. With his wife, Joann, Shigeoka invested about $60,000 to open Shige's in a 585-square-foot space next to an old-time Wahiawa okazuya lunch shop. When the okazuya closed a few years later, Shige's took over the space, doubling its kitchen and dining area.
"We tried to get her recipe for maki (rolled) sushi, but she wouldn't tell it to us," Shigeoka says, about negotiations with the departing okazuya owner. "Man, that was the best maki sushi on the island!"
Shige's opened with a simple menu of saimin and barbecue beef sticks, continuing Shigeoka's grandparents' tradition of crafting fresh noodles by hand, from scratch every morning. Shigeoka's father helped recreate Grandpa and Grandma Nakai's original noodle recipe while his wife came up with the sauces. The stand quickly gained a loyal neighborhood following. Many customers still drop by Shige's weekly for their saimin fix.
When Shigeoka finally opens for customers, I order a bowl of a saimin, which arrives steaming hot, its fresh noodles swimming in gold broth. The dashi isn't rich like the collagen-laden broth at local ramen shops or overly salty. Just nicely balanced. The egg-enriched noodles have a nice bounce when lifted with chopsticks and a chewiness attesting to its freshness.
Shigeoka has tried to keep menu prices low, selling his fresh noodle saimin at $5.25 for a small bowl and $6.95 for a large. Hamburgers are $2.35. Though Shige's menu has expanded over the years—it now includes loco moco, pastrami sandwiches and plate lunches—saimin is still the eatery's bestselling item. Shigeoka estimates selling hundreds of bowls weekly.
"I love watching the customers eat," says Shigeoka, now 52, who worked two jobs for 17 years to make Shige's successful. "I love watching people enjoy something [I've] made. They look so happy and so comfortable. I love that."