Nuts for Coconuts: Q&A with Ryan Burden
At Coconut Information workshops in Ha'ikū on Maui, Ryan Burden aims to educate the public on the power of the coconut.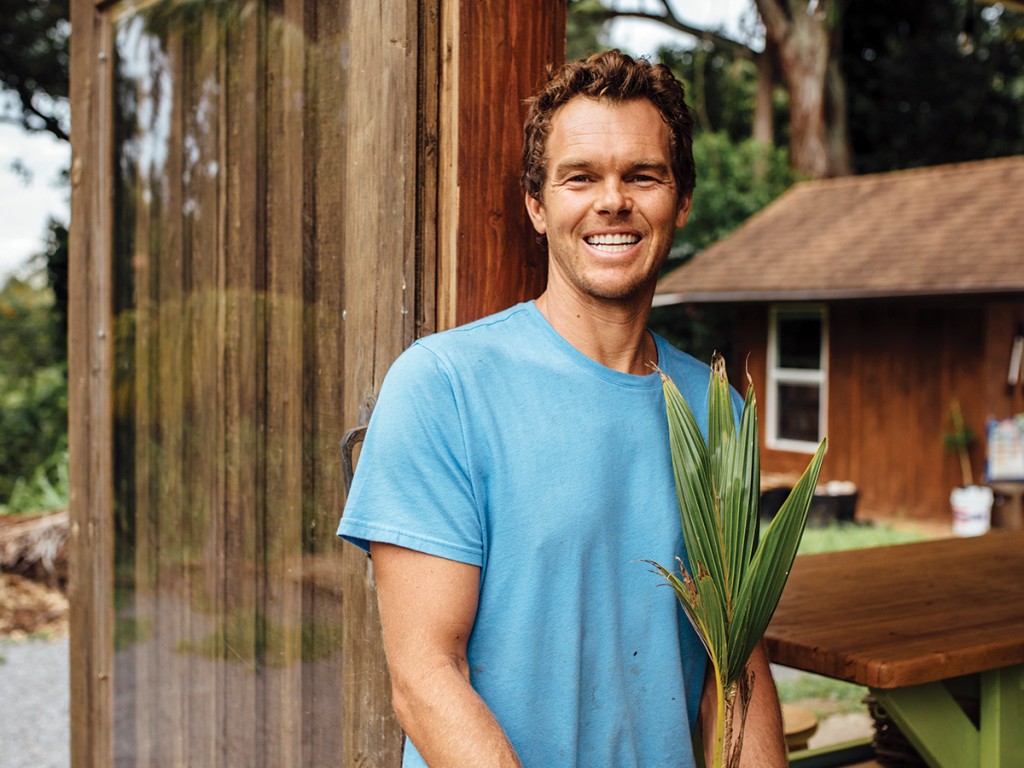 While coconut trees may be ubiquitous in Hawai'i, few of us know what to do with the nut itself. We drink imported coconut water and see the falling fruits more as a liability than a blessing. Ryan Burden is hoping to change that. When he's not traveling around Maui trimming coconut trees, Burden, 38, runs Coconut Information, a workshop and educational center on his 3-acre farm in Ha'ikū. Here, he teaches visitors and locals alike (and more than a few chefs) all about this wondrous fruit, including how to open, cook and process it.
What led to your interest in coconuts?
My goal is to grow my own food. I wanted to see what it is like to be responsible for my own existence. So, I was planting sweet potato and papaya and kale and then I realized there was one plant, the coconut tree, that you literally stick it in the ground and you don't have to water it or weed it. It lives for 100 years and it produces food year-round. It gives you fats, it gives you water, it gives you everything you need. It is the most important plant for sustainability in the tropics. And here we live on this island that imports 90% of its food, but at the end of the day, if you plant one coconut, you are making a difference for the next 100 years.
You've traveled around the world learning about coconuts. What did you learn about the role they play in other cultures?
The five countries that produce the most coconuts are Indonesia, the Philippines, India, Brazil and Sri Lanka. Sri Lanka consumes 80% of what it grows. [It has] the strongest coconut culture. A lot of indigenous cultures have traditions of planting a coconut when someone is born because as long as there are seven coconut trees per person, no one would run out of food, water, supplies. On some atolls in Polynesia, coconut comprises 60% of people's diets. I learned how to open and husk coconuts from an 8-year-old girl in Fiji.
What made you start teaching workshops?
Civilizations existed on the brown coconut. But people don't know how to open it or how to approach it. So I started holding workshops. My goal is to teach people how to use it in their kitchens. People are interested in taking control of their diet and having healthy, local food. I'm not here to entertain. I'm here to empower people.
With all those coconuts you have, how do you incorporate them into your daily life?
I make a fresh thing of coconut milk every day—put it in my coffee, in my smoothie, make gravy for dinner, ice cream and yogurt. With the meat I make noodles or flour. I also make coconut oil, infused with a little vanilla bean or coffee that can be used as a skin serum. The shredded husks make the most amazing garden mulch.
For more information or to book a private farm tour and coconut cooking class, visit coconutinformation.com.