Oʻahu Hikes for Every Kind of Hiker
From first-time hikers to veteran trekkers, Oʻahu boasts trails for everyone.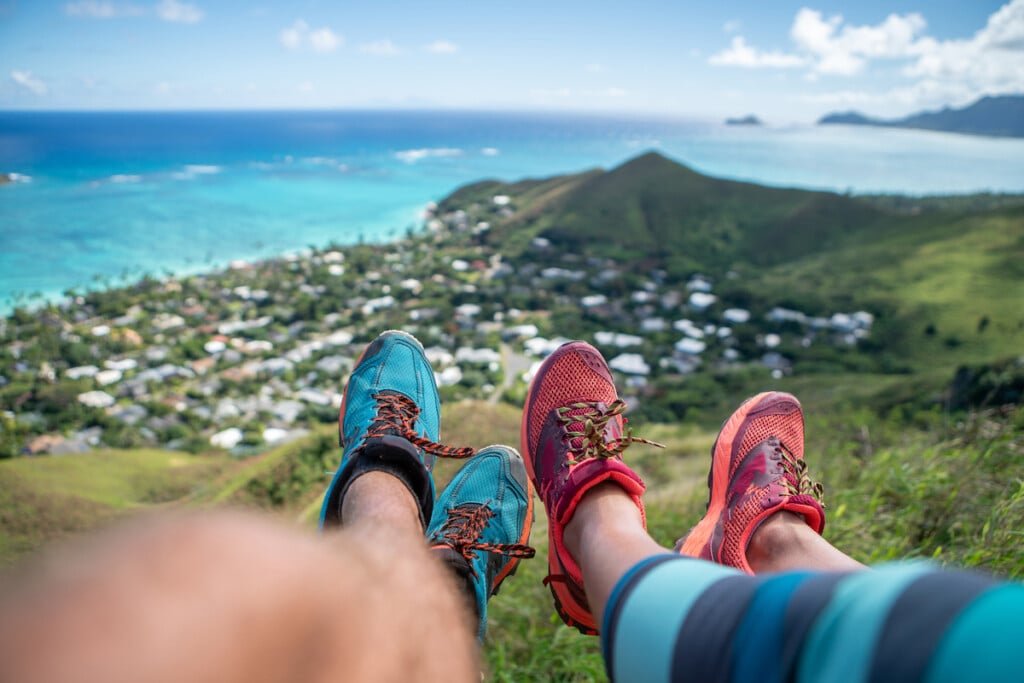 There's no better way to explore the natural beauty of Oʻahu than by hiking. You'll venture into native rainforests, marvel at panoramic views of the coastline and see places most visitors don't—and burn off that breakfast, too.
So if you like to stay active on your vacations or you're brand-new to hiking, Oʻahu has dozens of trails for every kind of hiker.
Get out there and explore!
What To Bring
Most trails in Hawaiʻi aren't paved or well-maintained. You are truly trekking through forests and along ridgelines. And some trails don't have parking lots, restrooms or other amenities. So do your research before heading out.
To determine what you need to bring on your hike, consider the following:
How far are you hiking?
How remote is this location?
What's the weather like?
How experienced are you?
Many hikes on Oʻahu can be done in a day—and overnight treks or challenging trails should be done only by expert hikers. The longer the hike, the more water and food you should bring. Trails with stream crossings or waterfalls—Maunawili Falls, for example—may require sturdier footwear and a change of clothes. Trails with very little shade—Kaʻena Point—may require more sun protection.
For day hikes, you should bring the following:
Hiking backpack
Appropriate clothing, including a rain jacket, hat and sturdy shoes
Sun protection (hat, sunscreen)
Plenty of water (general rule of thumb is 1/2 liter of water for every 1 hour of hiking)
Plenty of snacks (granola bars, dried fruits, jerky, gummies, sandwiches—things that won't melt or spoil)
Charged cell phone
First-aid kit, including insect repellent
Let someone know where you're going and what time you're expected to return.
And always follow posted signs, check weather reports and never trespass or venture off trails.
This hike is perfect for beginners—or families with young kids—and the view doesn't disappoint! This 2-mile (roundtrip) path meanders along windswept cliffs above the easternmost point of Oʻahu with views of the rugged Kaiwi Coast and Pacific Ocean. At the top, you can gaze down at the historic 46-foot-tall Makapuu Point Lighthouse, built in 1909. During winter months, you can often see humpback whales frolicking in the warm waters offshore—another spectacular sight. There's a parking area (no restrooms) and the entire trail is paved.
There are numerous intersecting trails in Makiki, a neighborhood about 5 miles north of Waikīkī. A favorite is the ʻUalakaʻa Trail, a short 1-mile (roundtrip) trek through a thick forest of strawberry guava, banyan, Cook pines, even macadamia trees. It starts at Puʻu ʻUalakaʻa State Wayside—where there's parking!—and intersects with other trails that are part of the Honolulu Mauka Trail System. It's a fun trail—no hard uphills, no scary sections—on a well-worn path. And it's short enough—we do this in about 30 minutes—to keep kids interested. Drive up further to the Tantalus Lookout and picnic as the goes down. The views of Lēʻahi (aka Diamond Head) and Honolulu are unrivaled.
Best Hike for Sunrise: Kaʻiwa Ridge Trail
There's no better view of the famous Nā Mokulua ("two islands") in Kailua than from the pillboxes above Lanikai Beach. The Kaʻiwa Ridge Trail—known as the Lanikai Pillbox Trail—is a 1-mile, mostly uphill trek to two concrete pillboxes—technically, observation stations built in early 1943. It's hot—there's no shade along the trail—and often crowded, especially during summer months. Go early to avoid the heat—but also to catch the sunrise, which is stunning from this vantage point. Best to park at Kailua Beach Park (yes, there are restrooms) and walk to the trailhead; it only takes a few minutes.
Best Hike to Get a Workout: Koko Crater Stairs
There's a reason why it's called the Stairmaster from Hell. There are 1,048 steps to the Puʻu Mai summit of Kohelepelepe—and the trek can be punishing. Koko Crater Stairs—really an old tramway, remnants of an abandoned railroad track built by the U.S. Army in 1942—is one of the best workouts you'll get on any Oʻahu trail. Every part of your body, from your legs to your glutes, will feel it the next day. But there is an immediate reward: At the top you'll be treated to one of the best views of East Honolulu on the island. Park at Koko Head District Park, where there are restrooms and water fountains.
The 200-acre Koko Crater Botanical Garden features a 2-mile loop trail through 60 acres of rare and endangered dryland plants. See golden barrel cactus, loulu palms, baobabs, succulents and an extensive collection of plumeria. (Summer is when most of the hundreds of the trees are in bloom.) During the winter months, you'll spot kōlea, or Pacific golden plovers, that migrate to the Islands from Alaska. Lots of parking, but no restrooms.
Best Hike if You're on the North Shore: Keālia Trail
Spending the day on the North Shore and looking for an uncrowded hike? Hit this 7-mile trail, which offers stunning views of the coastline the entire way up. The trail ascends a steep pali (cliff) with continuous views of the coast until you reach the summit of the Waiʻanae Mountains. It's hot and dry almost the entire way, but the views—of the North Shore and, later, Mākua Valley on the island's west side—are breathtaking. There's parking in an open lot at Kawaihāpai Airfield (formerly known as Dillingham Airfield), but no restrooms.
This 3.5-mile hike runs through the Kaʻena Point Natural Area Reserve to remote Kaʻena Point, one of the last intact sand dune ecosystems in the main Hawaiian Islands. Oahu's westernmost promontory, it rewards hikers with stellar views of the island's still rugged north and leeward coastlines. See wedge-tailed shearwaters, Laysan albatross, Hawaiian monk seals and dolphins off-shore along this well-graded trail to the point. Winter months bring humpback whales to the area. There's a parking lot with restrooms.
Best Hike to a Pillbox: Puʻu O Hulu Trail
There are several hikes on Oʻahu that lead to military pillboxes, from the popular Kaʻiwa Ridge (aka Lanikai Pillbox) Trail to the scenic ʻEhukai Pillbox Hike on the North Shore. But this one—often referred to as the Māʻili Pillbox Trail or the Pink Pillbox Hike—is the best. Far less crowded than the others but with breathtaking views, this moderately difficult 1-mile trek leads to several pillboxes perched above the Oʻahu's western coast. (The pink one is the most popular—and visible. It was painted this color in October 2015 for breast cancer awareness.) It's a steep climb to the top along a fairly narrow—and hot—trail. The views are spectacular from any of the pillboxes. Park on the street. There are no restrooms.
Best Hike for Veteran Hikers: Mount Kaʻala
There are only three montane wet forests—or bogs—in Hawaiʻi, and on Oʻahu you can find one at the top of the 4,000-foot Mount Kaʻala, the tallest peak on the island. The 6-mile (roundtrip) to the summit is unrelenting and long, starting at the end of Waiʻanae Valley Road and up steep ridges and rock faces and across a boardwalk trail through a fascinating native cloud forest. See native shrubs like ʻaʻaliʻi and maile, ʻōhia lehua and koa and sandalwood trees along the way. It's a grueling hike, but the payoff—a walk through a bog, views of Wai'anae and western coastline. There's parking in a dirt lot—and you don't want to keep valuables in your car.