Oahu to celebrate St. Patrick's Day with Celtic-themed block party, Waikiki parade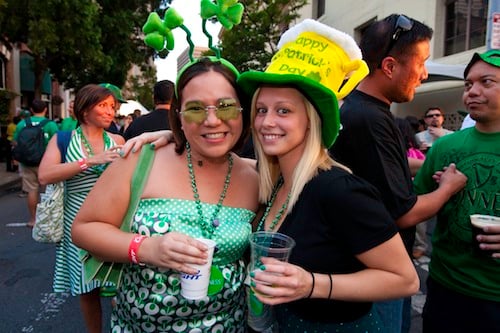 The emerald isle of Oahu is prepping for St. Patrick's Day. On Sun., March 17, there will be plenty o' wearin' of the green in Waikiki as well as drinkin' of the Guinness in Honolulu Chinatown Arts District's unofficial "Irish Corner."
Among the holiday highlights are the 46th annual St. Patrick's Day Parade and the 26th annual Chinatown area block party, which will be situated at the intersection of Merchant Street and Nuuanu Avenue — near Murphy's Bar & Grill and O'Toole's Irish Pub.
The parade, organized by the Society of the Friends of St. Patrick-Hawaii, will feature bands, marchers and floats. Slated to start at noon at Fort DeRussy Park, the parade will make its way down Kalakaua Avenue, past Kuhio Beach, and finish at Kapiolani Park. For additional information, click here.
The origins of the annual block party are tied to Murphy's Bar & Grill owner Don Murphy, who started the downtown St. Patrick's Day celebration about a quarter of a century ago as a simple but boisterous party, initially kept within the confines of his Irish restaurant and pub. Within a decade, though, the party began spilling out onto streets. Now it's a massive open-air fest packed with Irish food, live entertainment and, of course, a stellar variety of beers, Irish and otherwise.
No less than the brewers of Guinness Irish Stout have reportedly called the block party "the single biggest St. Patrick's Day party any one bar throws in the United States."
Murphy's restaurant will open for lunch at 11 a.m. with a St. Paddy's menu that reads like a Dublin pub: corned beef and cabbage, Guinness-braised lamb shanks, and more. Also, a "St. Patrick's Day Guinness Oyster Bar," will be brimming with with hundreds of fresh-shucked oysters, steamed clams, sautéed shrimp, crab cakes and oyster shooters.
The Merchant Street and Nuuanu Avenue area will be shut down at sunset to make way for the block party crowd and a stage for a pair of local bands: Doolin' Rakes, which will the Irish tunes, and the hard-rock Pirhanna Brothers. For more information click here.
Erin go bragh!