Oahu Volunteer Project Aims to Protect Kāne'ohe Bay
And you can help.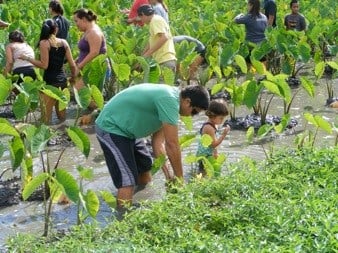 You see Kāne'ohe Bay in the distance, as you drive from Honolulu and emerge from the Likelike Highway tunnels on O'ahu's windward side.
The bay may seem tranquil and healthy. But beneath its surface algae, sediment from runoff and other pollutants are a threat to the bay's coral reefs and fish population.
If you've got some time to spare—whether you're on vacation, or have a free Saturday—you could help a grassroots effort to curb future damage to the bay.
A partnership between the nearby community of He'eia—specifically the Ko'olaupoko Hawaiian Civic Club and the nonprofit Kāko'o 'o 'Oiwi—and the Nature Conservancy's Hawai'i Chapter has launched a project to help restore the He'eia Wetlands near the bay into naturally productive kalo (taro) fields and other agricultural production for economic sustainability, educational, biological resiliency and cultural purposes.
The goal is to manage He'eia as an ahupua'a—a land division from the mountains to the sea—and care for it as a whole. What happens on land naturally affects the nearby ocean. So managing the amount of sediment that enters Kāne'ohe Bay is a step in protecting the region's unique marine environment, which is home to green sea turtles, manta rays, hammerhead sharks and other native reef species.
The project, called Māhuahua 'Ai o Ho'i, is aimed at replanting the upland forest with native plants and replacing swamp with taro fields. A small lo'i (irrigated taro terrace) has already been established in the area.
The project relies mainly on volunteers, who help in the lo'i every second Saturday of the month. Work begins at 8 a.m. and ends at noon.
If you're interested in helping out, contact Māhuahua 'Ai o Ho'i at kakoo.oiwi@gmail.com. For more information on what the project hopes to accomplish, visit www.kakoooiwi.org.