Oahu's ban on single-use plastic bags begins July 1. Check out these local designers offering alternatives.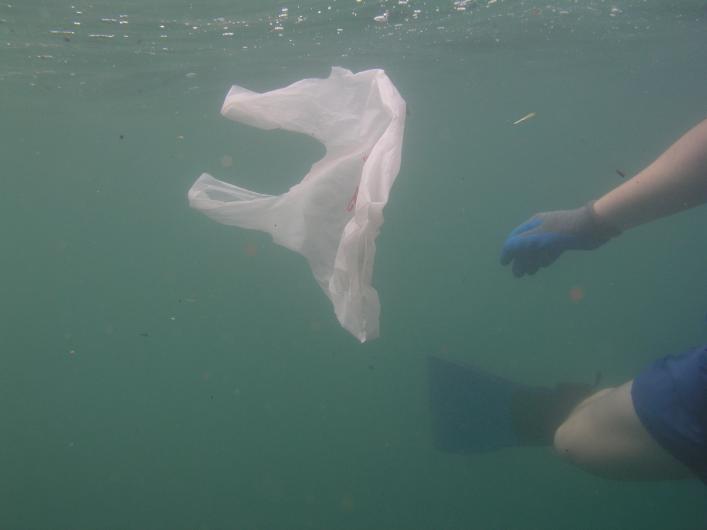 If you'll be in the Islands anytime after next week, you may want to consider buying a stylish reusable tote bag as your Hawaii souvenir.
Starting July 1, The City and County of Honolulu, which encompasses the island of Oahu, will become the final populated county in the state to enforce a plastic bag ban. The ban restricts the distribution of single-use plastic and non-recyclable paper bags at retail checkouts, and is part of ongoing efforts to reduce the strain on local landfills and stem the tide of marine debris flowing from the Islands into the sea.
Hawaii became the first U.S. state to ban single-use plastic bags in all of its populated counties after the City and County of Honolulu's bill was signed in April 2012. Since then, Oahu retailers have been phasing out their existing stock of bags and counties in other states have followed suit.
Single use plastic bags have already been phased out on other Hawaiian Islands. Kauai and Maui began enforcing the ban in Jan. 2011 and Hawaii Island's ban went into effect in Jan. 2013. Hawaii retailers found using banned single-use plastic bags could face fines between $100 and $1000 a day.
Not all bags will be phased out with the ban's enforcement on Oahu, however. There are multiple exclusions that will still allow plastic bags to—among other things—package fruits and vegetables, wrap frozen foods, wrap dry cleaning or help you transport your take-out from your favorite Hawaii restaurant.
Plastic bags have long been a problem in the marine environment where they can take decades to break down, be mistaken for prey by marine animals like sea birds and turtles, and drift long distances transporting invasive species.
Ready to go plastic bag free? Here's a roundup of stylish and reusable bags that will help you protect Hawaii's environment and transport your stuff while you're in Hawaii and beyond.
Manila Extract sells made-in-Hawaii and one-of-a-kind repurposed regional coffee bags, like the large burlap tote pictured, through its online Etsy shop here. (Large burlap tote, $95).
Hawaii surf artist Heather Brown sells Hawaii-inspired totes in a variety of price points in retail locations throughout the state. (Polypropylene bag, $10).
Lucky We Live Hawaii sells screen printed totes with map designs depicting the towns and major landmarks on each of the main Hawaiian Islands. All are lovingly screen printed on Kauai and can be found at retailers throughout the state. (Canvas totes $32 each).
Some of the proceeds from the 100% cotton canvas bags by Ecolicious Hawaii benefit the non-profit Sustainable Coastlines Hawaii. (A variety of designs and sizes starting at $22).