O'ahu's Largest Wave Pool Opens to the Public
The Wai Kai Wave, found at the LineUp on the island's West Side, is a water lover's paradise.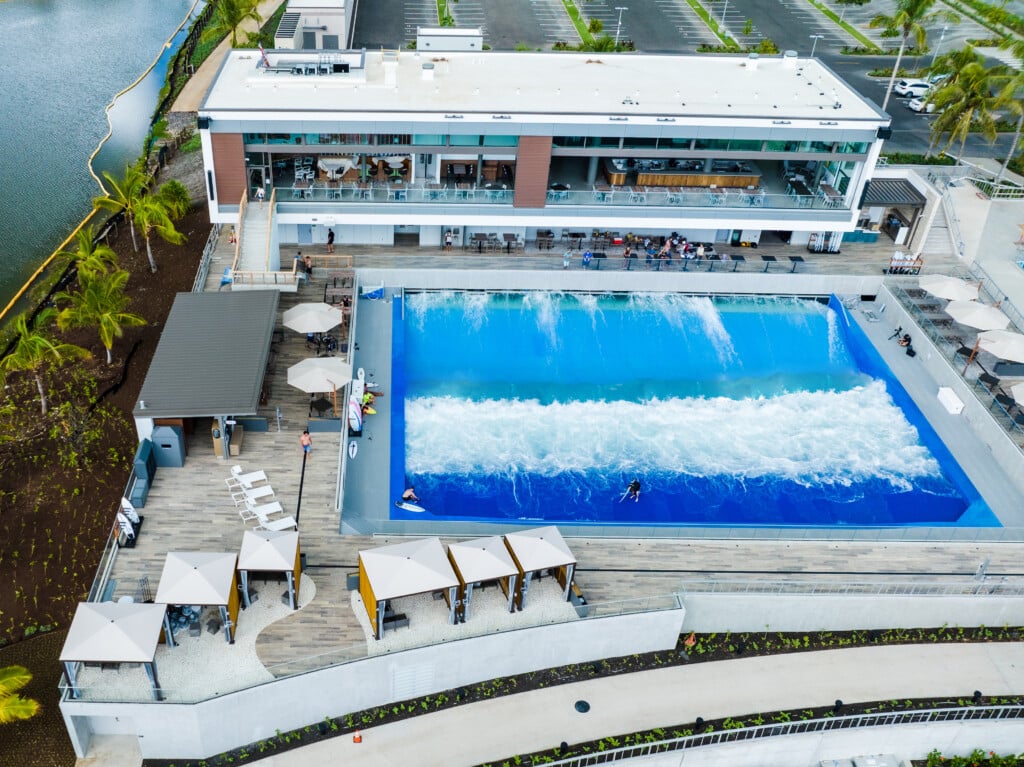 I'm rolling through ʻEwa on the West Side of Oʻahu, headed for the shore. However, I'm not planning to surf in the ocean, but in the state's largest wave pool. Spanning over 100 feet wide, the Oʻahu wave pool, Wai Kai Wave is a first for Hawaiʻi. As an avid surfer, I was stoked to try out the waves there—but my tunnel vision was broadened once I made it past the residential part of the ʻEwa district and arrived at The LineUp at Wai Kai.
More than just a wave pool, The LineUp at Wai Kai is a water-focused facility and home to the Wai Kai Wave and so much more. From the 52-acre Wai Kai Lagoon, where visitors can rent paddleboards, kayaks, one-person canoes and more, to three unique dining venues—The LookOut, Foam Coffee & Bar and Plaza Grill—there's a lot to see and do here. Plaza Grill for example is manned by Michelin-awarded chef Todd Humphries and Maui-born restaurateur Richard Miyashiro, who have provided guests with a menu they describe as approachable and inviting for a wide range of palates.
Back to the mission at hand, I'm ready to ride this Oʻahu wave pool. With my own surfboard under one arm and a neat RFID bracelet on my left wrist—it's what gets you access to the multiple amenities and areas of The LineUp, depending on what you've purchased—my group of four gets a brief but in-depth safety talk by one of the wave pool instructors. After being given a safety helmet and a wider, easier-to-ride foam board to start with, I slowly lower my feet onto the board—which is already in the flowing water of the wave pool—and immediately realize my previous surfing experience will have little effect here.
A standing wave moves and flows in a unique way, the water rushing under your board at a speed and in a manner that doesn't happen in the ocean. But boy howdy, once you get the hang of it, it's a ton of fun. In the ocean, the actual time you spend standing up on a wave can be brief, but at Wai Kai, you can stay on the wave for up to 30 seconds if you're skilled enough. More advanced surfers can work on turns, carves, cutbacks and even airs, however, expect your first session to be a humbling one. Before you show off your whole bag of tricks, you have to first get used to the new sensation of a standing wave.
Fortunately, even as I was wiping out on repeat, the instructors and staff at the Wai Kai Wave were more than helpful. Giving me tips on how to stand, where to position my shoulders and what parts of the wave have the most power, I was able to get a few good rides and turns in before my 45-minute session was up. Offering mentorship and coaching from professional surfers like Shane Beschen in the facility's soon-to-launch Wai Kai Wave Surf Academy, I can see how surfers could use the site as an actual training ground, a place to practice maneuvers that they can try out in the ocean later.
Back on land—actually I was always on land—I grab an ice-cold brew, made with locally sourced coffee beans, from Foam Coffee & Bar. Afterward, I head to The LookOut which has an unparalleled view of the park and coastline. From what I've heard, plenty of ʻEwa locals have been visiting the park in the past few days, biking over or walking from home. Families can enjoy the large grassy lawn, where events will be held, and couples can dine at the oceanfront Plaza Grill.
For more information and to book tickets to the Wai Kai Wave, visit waikai.com.