Oahu's Mele Kalikimaka scene: holiday parades, annual Honolulu City Lights display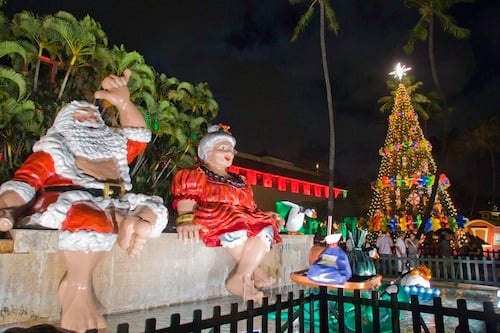 The City and County of Honolulu's official schedule for Oahu street activities is now packed with holiday parades, starting this weekend and continuing through mid-December.
More than 20 major parades and caravans will be lining up in across the island. For a complete listing of parades and caravans, click here.

Here are some of this weekend's highlights.
Honolulu City Lights Parade — Sat., Dec. 1, festivities starting at 4 p.m.
At sunset (about 6:30 p.m.), the city's elaborately decorated 50-foot holiday tree, fronting Honolulu Hale, will be illuminated. The lighting will be preceded by the annual Public Workers Electric Light Parade — complete with floats, bands, more than 30 decorated city vehicles ranging from fire trucks to TheBus city buses. The event will also feature entertainment ranging from Ballet Hawaii to comic Frank DeLima, and Hawaii musician Anuhea. Free picture-taking with Santa will continue until 9 p.m. and the opening-evening event for the 28th annual Honolulu City Lights display is set to end at 10 p.m. The display will be glowing nightly through Jan. 1, 2013.
Kaneohe Christmas Parade — Sat., Dec. 1, starting at 9 a.m.
The annual mid-morning Kaneohe Christmas Parade, set to begin at Windward Mall at and end at Castle High School, the parade will include local bands, floats, and, of course, plenty of holiday singing.
Mililani Town Christmas Parade — Sat., Dec. 1, festivities starting at 9 a.m.
Mililani Shopping Center will be decked out as a winter wonderland for the Mililani Town Christmas Parade as well as a number of winter-themed crafts and performances. Festivities begin at 9 am and will continue until noon. The parade will launch from the shopping center and then wind its way to the town center where a panel of judges will select the lineup's best marching unit and best vehicle. Among this year's judges: comedian Augie T and dancer/actress Wendy Calio, a cast member on Disney Junior children's TV series, "Imagination Movers."