Oahu's North Shore in One Day
Here are the five things you need to do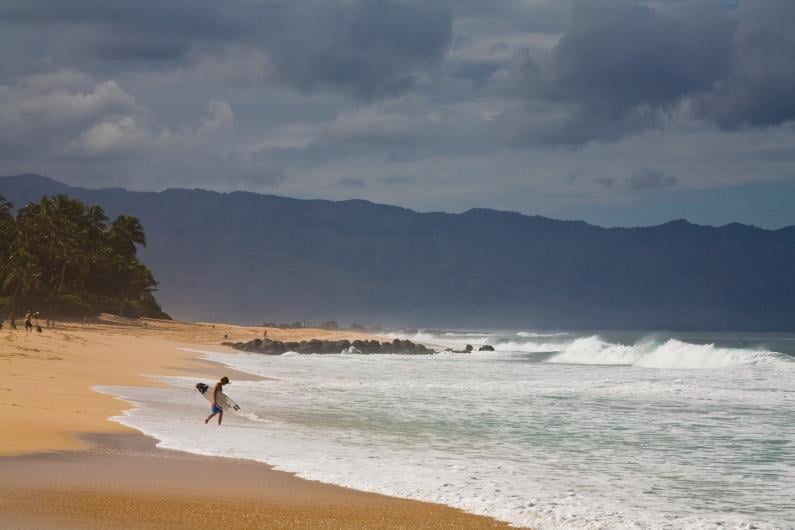 There's no better time to venture to Oahu's North Shore than in the winter months.
Sure, there's more traffic along Kamehameha Highway, as drivers gawk at the enormous waves that pound the shoreline. And sure, the neighborhood cafes and hole-in-the-wall lunch spots are packed with visitors who have fled colder climes for Hawaii's perfect weather.
But it's the North Shore. It's winter. It's 80 degrees out. We get it.
I tell anyone who's visiting the North Shore—especially for the first time—to get there early. It takes about 45 minutes to drive from Waikiki to the North Shore's famed surf town Haleiwa, more if you plan on stopping along the way.
And why not get there early? It's not like you can't fill an entire day on the North Shore.
Here's what I would do if I had a full 12 hours out in the country:
1. Eat breakfast at Café Haleiwa
North Shore musician Jack Johnson wasn't singing about the banana pancakes at Café Haleiwa in his fan favorite song. But had he tried these, he might've ditched his homemade ones. The pancakes at this little funky café are light and fluffy and can be topped with blueberries or, well, more bananas. Breakfast is served Monday through Saturday from 7 a.m. to 12:30 p.m. and all day on Sunday. Oh, and the omelets and coffee are great, too.(66-460 Kamehameha Highway, 808-637-5516)
2. Visit Laniakea (or Turtle) Beach
Take advantage of the early morning hours—read: smaller crowds—and head to Laniakea Beach, affectionately known as Turtle Beach. Here, Hawaiian green sea turtles, also known by the Hawaiian name honu, play in the nearshore waters and bask on the sandy beach. Since they're a threatened species and protected under the Endangered Species Act and Hawaii state law, you're not allowed to touch, feed or play with the honu. But you can observe, swim with and photograph the dozens of turtles that have been sunning here regularly since 1999. Malama na Honu ("Protect the Turtles") is a non-profit that protects the North Shore turtles. For more info on its efforts, visit Malama na Honu's website.
(Kamehameha Highway, just outside of Haleiwa)

3. Learn how to SUP
Stand-up paddle surf, that is. If the surf's way up on the North Shore, but you still want to get in the water—hey, you've earned it after the drive out to Haleiwa—consider learning how to stand-up paddle surf. It's a throwback to the beachboys of old time Waikiki, who used to paddle standing up on oversize longboards. These days, it's a bona fide sport, with enthusiasts around the world picking up paddles and venturing down streams and across lakes. SUP is easy to learn, especially when you take a lesson from Surf  N Sea in Haleiwa. An hour-long lesson ($55) gives you the basics of stand-up paddle surfing, from proper stance to effective technique—all in a calm section of the bay directly behind the shop. Not only is it a safe and fun way to get out in the ocean, you'll be burning off those banana pancakes.(62-595 Kamehameha Highway, 800-899-SURF, www.surfnsea.com)
4. Shop for gifts to take home
While the North Shore may be more famously known for its super-size winter waves, it's gaining a reputation for its art galleries and boutiques. Here, you'll find handcrafted jewelry, original watercolor paintings, natural soaps and lotions, made-in-Hawaii fashions and much more.
Some place to check out:
• Global Creations & Interiors (66-079 Kamehameha Highway, 808-637-1780, www.globalcreationsart.com): Find unique Hawaii crafts, art and other gifts at this funky Haleiwa store. The shop carries works by North Shore artists, handcrafted ukuleles, sarongs, books, beach jewelry, even shell spoons. One of our favorite items: the made-in-Hawaii "ecohashi," a cloth napkin wrapped around reusable bamboo chopsticks.
• Guava Shop (66-165 Kamehameha Highway, 808-637-9670, www.guavahawaii.com): Run by two born-and-raised-on-the-North-Shore fashionistas, this casual beachy-chic boutique in Haleiwa offers an impressive selection of dresses, tops, denim and other beach essentials from a variety of designers. One of our favorite items here: Kai Body Lotion, the line's classic scented moisturizer with safflower oil, shea butter, apricot kernel oil and cucumber fruit extract.
• Haleiwa Art Gallery (66-252 Kamehameha Highway, 877-353-5763, www.haleiwaartgallery.com): This is Haleiwa's oldest art gallery, featuring fine artwork from more than 30 Pacific Island artists.
5. End your day with a slice of pie at Sunny Side Bakery
While most folks cruising the North Shore stop by the more famous Ted's Bakery near Sunset Beach for a slice of homemade pie, we suggest heading back to town through Wahiawa and pulling in at Sunny Side Bakery. This smallish, hard-to-find bakery makes some of the best pies we've tasted, including a double-crusted banana pie and an ever-popular blueberry cream pie. Slices are about $1.50 each. Trust us, the experience will be priceless.
(1017 Kilani Ave. 808-621-7188)