Oahu's popular Makapuu trail to close on weekdays for repairs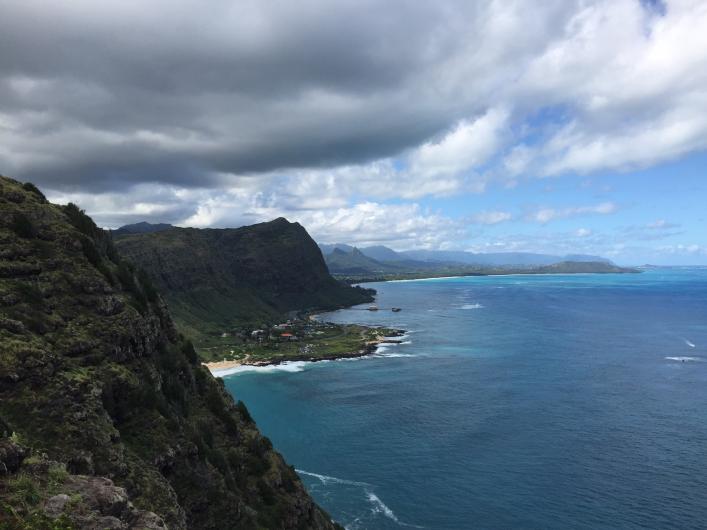 Makapuu Point Lighthouse Trail, one of Oahu's most popular hiking paths, will be closed to the public for an estimated 25 weekdays in February, March and July as it undergoes trail maintenance.
The two-mile paved pedestrian path extends to Oahu's easternmost tip and lies within Kaiwi State Scenic Shoreline, a state park. Closures begin today (Mon., Feb. 9) with regular construction closing the trail most weekdays through Thurs., March 5. The area will also be closed for seven days in July.
Monday through Friday closures will allow workers to keep the area and trail open—though with some inconveniences to visitors—on the weekends and holidays.
The Department of Land and Natural Resources (DLNR), Division of State Parks will oversee a private contractor during the estimated $2.7 million reconstruction effort. The project will add new scenic lookouts along Makapuu Point Lighthouse Trail in addition to repairing sections of the stacked rock retaining wall and repaving and replacing metal culverts under the road.
Weekend visitors between now and July can expect to be relegated to one side of the trail, may experience delays as construction equipment moves along the path, and should note that some of the popular park lookouts will likely also be closed for renovation. The parking lot and trail will keep regular park hours on Saturdays, Sundays and holidays: from 7 a.m. til 6:45 p.m. before April 1, and til 7: 45 p.m. after April 1.
The project is not expected to affect the Makapuu lookout along Kalanianaole Highway or the Kaiwai shoreline, though visitors to the shoreline will need to access from the park's Sandy Beach side during park closure days.
Makapuu Point Lighthouse Trail is a relatively steep trail named for the area's red-roofed lighthouse, built in the early 1900s. The scenic trail provides a popular vantage year-round and is a great spot for watching whales in season between Nov. and May.
A complete list of scheduled closure days follows:
• Mon., Feb. 9 through Fri., Feb. 13
• Tues., Feb. 17 through Fri., Feb. 20
• Monday, February 23 through Friday February 27
• Mon., March 2 through Thurs., March 5
• Tentative July closure dates include Mon., July 20 through Fri., July 24 and Mon. and Tues., July 27-28. The construction schedule for the month of July won't be confirmed until early that month. HAWAIIMagazine.com staff will update this information as more becomes available.