Oahu's popular Nuuanu Pali Lookout begins charging for parking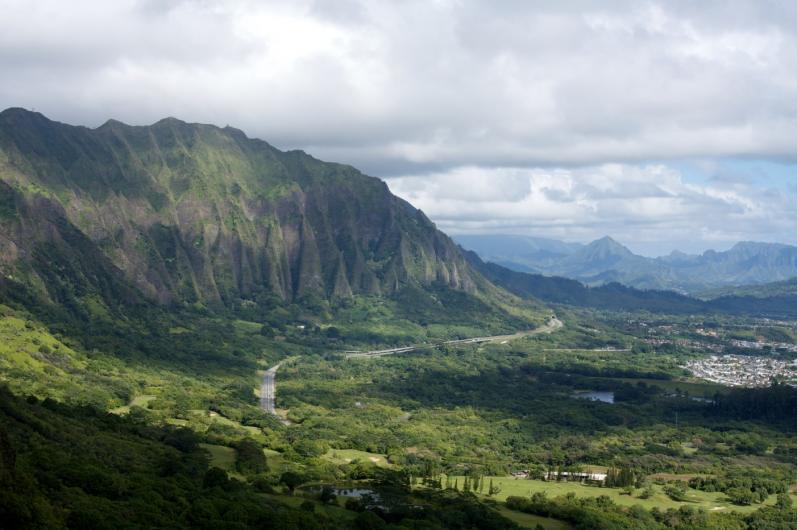 The breathtaking view of Windward Oahu from the Nuuanu Pali Lookout hasn't changed, but you'll now have to pay to see it.
Since last Friday, visitors to the popular site arriving by car are being charged a $3 parking fee. There was previously no charge to park in the lookout's lot.
If you've booked a trip to see the lookout with a tour company, there's nothing to worry about. The tour company's commercial vehicle will be charged for parking, not its passengers.
However, if you'll be driving to the lookout on your own—and are not a Hawaii resident—you'll have to pay to park.
According to the Department of Land and Natural Resources (DLNR), the new parking fee is part of Hawaii state government's "Recreational Renaissance" plan. It's a new state program aimed at protecting and enhancing the Islands' natural and cultural assets, while collecting monies for their continued maintenance.
"We're striving to eventually provide better repair and maintenance to care for these special places," said Dan Quinn, state parks administrator. "User fees allow park users to help support repairs and maintenance at these important recreational areas."
Parking fees will be implemented at additional Hawaii state parks later this year. We'll keep you updated as we find out which parks are affected.
Diamond Head State Monument, another popular state park, has been charging $1 per pedestrian since May 2000, and $5 per car beginning in January 2003.
The Oahu lookout—its official name is the Nuuanu Pali State Wayside—attracts more than 900,000 visitors every year. From the top of the 1,200-foot-high pali (cliff), visitors take in panoramic views of the towns of Kailua and Kaneohe. Just below the lookout, you'll see a portion of the Pali Tunnels and Pali Highway, which link Honolulu to Windward Oahu.
Nuuanu Pali is where the famous Battle of Nuuanu took place in May 1795. King Kamehameha the Great, seeking to unite the Hawaiian Islands under his rule, conquered Oahu by forcing more than
400 soldiers from rival chief Kalanikupule's army up the forests of Nuuanu Valley and, eventually, off the pali. Despite the area's brutal history, the Nuuanu Pali Lookout remains a sacred place for many.
Apart from its stunning scenery, the Pali Lookout is also famous for its strong and frequent gusts of wind. We recommend holding on to your hats and other belongings. As you can see in the photo here, it can be difficult to even keep your hair in place at Nuuanu Pali.