Our 14 favorite photos from 2017
HAWAI'I Magazine's editor and art director choose their favorite photos from the past year published in the magazine.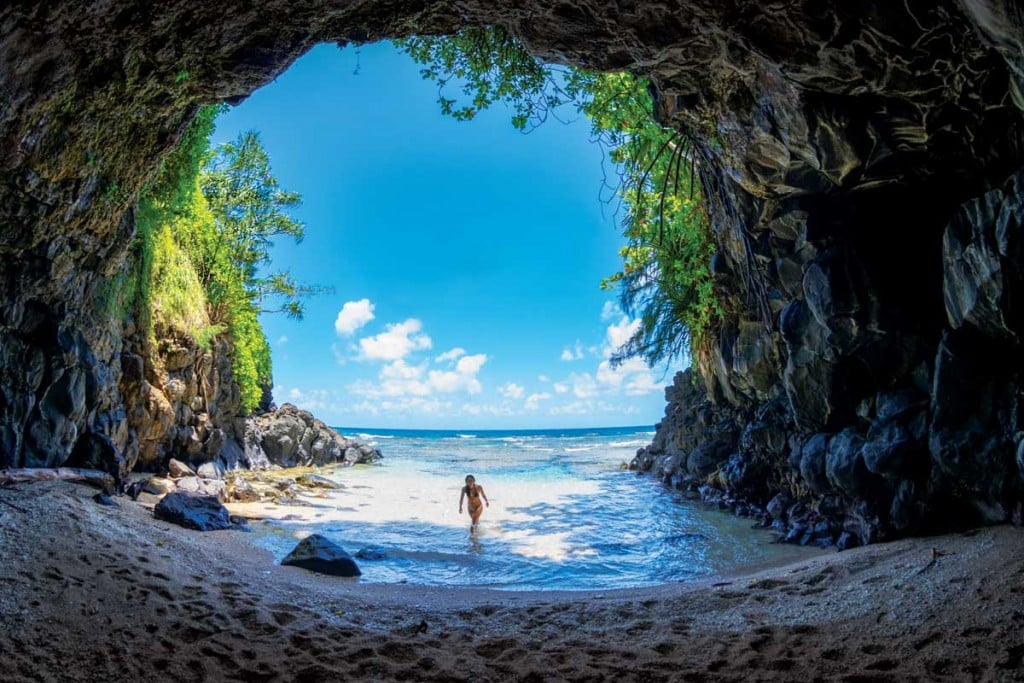 Since its beginning, HAWAI'I Magazine has worked with some of the top photographers in Hawaii who produce some of the best photography year after year in the Islands.
This list, in no particular order, is by no means all of our favorites—many other fantastic photos have appeared on our Instagram page throughout 2017—but these featured below were chosen from our 2017 magazine issues by our art director, Elena Bragg, and editor-in-chief, Christine Hitt.
1. Makua Beach, Kauai, photographed by Bryce Johnson
"It has a warm vibe and it's inviting."—Art Director, Elena Bragg
"I love the colors, the simplicity of it and how it has a calming effect. I want to be there."—Editor-in-Chief, Christine Hitt
2. Kahakuloa, Maui, photographed by Daniel Sullivan
"It's an epic photo of Kahakuloa, Maui at an angle not often seen."—Christine Hitt
3. Turtle Cave, Kauai, photographed by Chad Koga
"When I saw this photo, I knew instantly that everyone would love it. It has a hidden feeling which makes it alluring."—Elena Bragg
4. "Ui" fashion feature, photographed by Daeja Fallas
"The way the sunlight casts shadows on the model's face and the way the lei she's wearing matches the flowers in the foreground—it's perfect."—Christine Hitt
5. Hanalei Bay, photographed by Mallory Roe
"The photographer captured a perfect moment of Hanalei Bay, with the rainbow peeking over the mountains, the lone stand-up paddleboarder and calm waters."—Elena Bragg
6. Twilight at Kalahuipuaa, photographed by Megan Spelman
"I like how the photographer captures their personalities in this photo. It feels real and is such a happy moment."—Elena Bragg
7. Taimane Gardner, photographed by Ryan T. Foley
"Ryan's photo perfectly represents Taimane's essence and go-with-the-flow personality."—Elena Bragg
8. Whales, photographed by Tor Johnson
"An over-under scene of a mother and calf with the coast of Maui seen clearly in the distance. It couldn't have been shot any better."—Christine Hitt
9. The Royal Hawaiian, photographed by Christine Hitt
"I took this photo with my iPhone while staying at The Royal Hawaiian hotel researching 'Our 50 Favorite Hotels,' and Elena liked it so much that it became a cover contender for the issue. Though it didn't make it through to the final rounds, I still love that you can see peeks of Waikiki Beach from behind the palm trees."—Christine Hitt, on Elena's pick
10. Lanikai Pillbox Trail, Oahu, photographed by Mike Karas
"It's a view you don't normally see on a very popular trail."—Elena Bragg
"It makes me want to do this hike again tomorrow just so I can see how the photographer found this angle."—Christine Hitt
11. Mahaulepu Beach, Kauai, photographed by David Croxford
"It feels like a moment of discovery: You're on this hiking trail and see this beautiful, secluded gem of a beach. I remember this spot exactly."—Christine Hitt
12. Boys carrying a surfboard, photographed by Mike Coots
"Frankly, there isn't a photo of Mike Coots' that I don't love, but I absolutely adore the lifestyle shots he takes, like this one of little boys going out to surf with the Napali Coastline in the background."—Christine Hitt
13. Volkswagen in Waikiki, photographed by Joseph Noah
"It's so retro, like it was taken in the past, but it wasn't."—Elena Bragg
"His style takes seemingly simple concepts and makes them feel grand."—Christine Hitt
14. A hula kahiko (traditional) dancer, photographed by Dino Morrow
"It doesn't feel posed or staged, yet she's positioned exactly as I would want her to be—sharing the frame with some of the same plants that make up her head lei and ti leaf rain cape. It's a stunning and timeless photo of Hawaiian culture."—Christine Hitt