Our 2014 "Best of Hawaii" issue is out! Check out some of our picks for Best Hawaii "Stuff."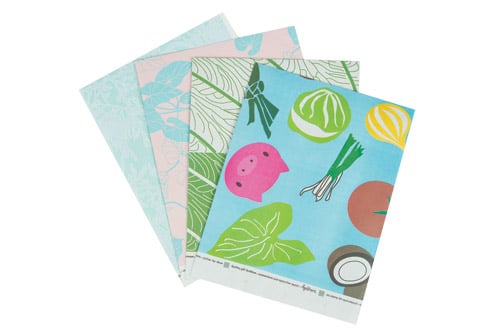 HAWAII Magazine's 2014 "Best of Hawaii" issue is on-sale nationwide now! The perennially popular issue features our annual collection of stuff that makes our Islands great.
The September/October "Best of" issue is chock-full of staff-curated standouts, highlighting the best of the best throughout the state. From the "Best Movie in the Park," to the "Best Hotel Restaurant," and even "Best Street," "Best Downtown" and "Best Farmers Market BLT," you're sure to find lots of awesome Hawaii tips and insights.
Our 101 "Best of" picks are gathered within four umbrella sections, "Places!" "Eats & Drinks!" "Stuff!" and "Fun, Etc!" You'll have to pick up a copy of the "Best of Hawaii" issue to see all of our picks (we recommend subscribing to HAWAII Magazine so you never miss an issue). Over the past few weeks, we've been sharing select picks from our "Best of Hawaii" feature here on HawaiiMagazine.com.
Our last couple of posts shared some of our favorite Best of Hawaii 2014 "Places!" and Best of Hawaii 2014 "Eats and Drinks!" Today we're sharing six of our 15 winners from our Best of Hawaii "Stuff!" section.
"Best of Hawaii 2014: "Stuff!""
(6 of 15)
by Derek Paiva and Dawn Sakamoto
"Best Tank and Tote"
Lucky We Live Hawaii
Like Frank Sinatra once crooned about love and marriage, we can't have one without the other. Canvas totes—each with a simple pastel silhouette of Maui, Kauai, Oahu or the Big Island and typography of their small towns within—or tanks sporting Lucky We Live Hawaii's all-too-true moniker and declarations like "You had me at Aloha"? Eh, we'll just take both with us to the beach.
Lucky We Live Hawaii
luckywelivehawaii.com

Noho tea towel. Photo by David Croxford.
"Best New Home Accessories Designer"
Noho Designs

Three words: opihi throw pillows. Any designer savvy enough to elevate Hawaii's favorite and most elusive limpet to the realm of cool home accessories gets our props. Kailua, Oahu-based designer Kamaile Puaoi's colorful line of Hawaii-inspired décor features clean, modern graphics and a whimsical sun-kissed expressionism so locally beachy you'll check to make sure your Noho tea towel isn't tracking Kailua Beach sand into the house.
Noho Designs
etsy.com/shop/nohodesigns
"Best Wrap"
Wrappily

Opihi finds its way into another "Best of" category! And this time it's on the colorful, sustainably-made-on-recycled newsprint main product of Maui-resident Sara Smith's gift-wrapping paper company, happily called Wrappily. The clean graphic design of Wrappily's wraps also feature kalo leaves, night blooming cereus flowers, palm silhouettes, palaka (checkered) and a playful luau theme. All wraps are printed locally on old newspaper presses.
Wrappily
wrappily.com
"Best Venerable Hawaii Literary Journal"
Bamboo Ridge Press

Since its 1978 birth at the typewriters of founding writers Darrell Lum and Eric Chock, Bamboo Ridge Press has provided a warm, welcome and consistently brilliant home for stories and books about Hawaii and its denizens, written by Hawaii people. More than 36 years and dozens of books later, however, our favorite publication from the independent, nonprofit press remains its flagship biannual Bamboo Ridge fiction and poetry journal, filled with engaging works by both burgeoning and well-known Hawaii writers, and available by subscription. Craving more Hawaii lit after reading the last page of your current Bamboo Ridge? We suggest you check out our choice for "Best New Hawaii Literary (and Artists) Journal" below.
Bamboo Ridge Press
bambooridge.com
"Best New Hawaii Literary (and Artists) Journal"
Abstract Magazine

Brilliantly designed and conceived and, remarkably, distributed free-of-charge in multiple Oahu locations, Abstract bills itself as a magazine, but is really a journal of the modern Hawaii experience. A quarterly canvas for the work of emerging local writers and designers, compiled and produced as something of a labor of love by a self-proclaimed "Inkubator" of creative types, the typical issue of Abstract—if there is one—is an at once fun, serious, challenging, cheeky, educated, salacious, engaging and rarely a pedestrian read, especially if you care about Hawaii. We do. And we're fans of Abstract.
Abstract Magazine
abstracthawaii.com
Guava Jam album cover. Photo: Wikimedia Commons.
"Best Non-Edible Preserves"
"Guava Jam" by The Sunday Manoa

If seminal music trio The Sunday Manoa's 1971 masterpiece Guava Jam isn't in your music collection, you're missing a key touchstone of Hawaiian music history. With Guava Jam, the Sunday Manoa—Peter Moon, Roland Cazimero and Robert Cazimero—all but introduced the contemporary Hawaiian folk music genre—a blending of traditional styles and new songwriting and instrumental arrangement—that came to dominate Island music in the 1970s and still influences musicians today. It also still sounds as fresh, vital and full of quiet ambition today as it did back in the day. Go get it.