Our New "Have Aloha Will Travel" Podcast Launches on Monday
Join HAWAII Magazine staffers Catherine Toth Fox and Kevin Allen in a biweekly discussion about all things Hawaii.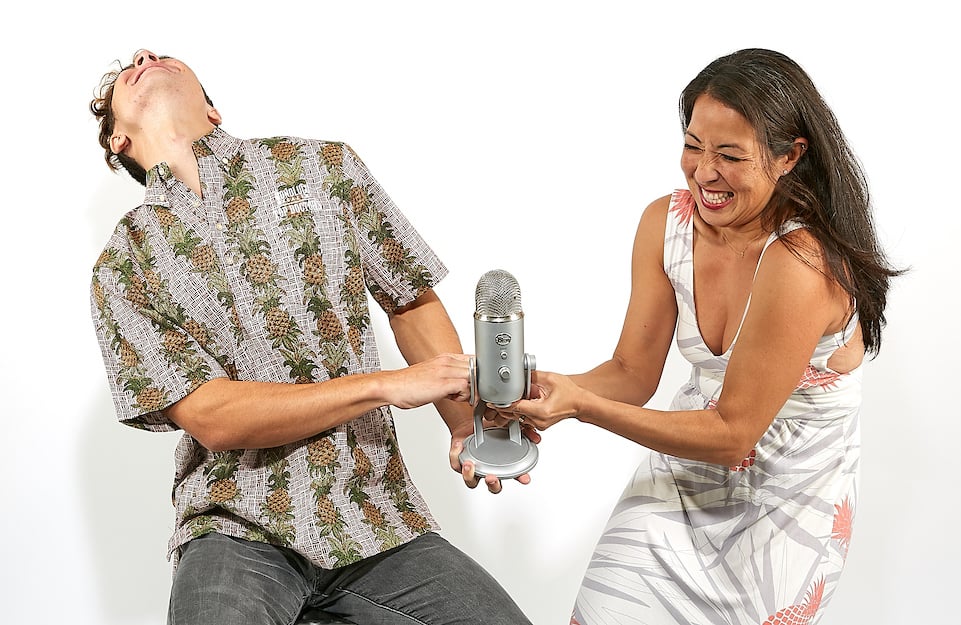 I'll be honest: We're launching this podcast mostly because we love podcasts.
And by "we," I mean Kevin Allen and I. Kevin is the magazine's associate editor, who juggles writing for the magazine with managing the content on our website. And me—I'm the new editor of HAWAIʻI but have been writing for the magazine for almost a decade.
This podcast, called "Have Aloha Will Travel," will be all about Hawaii, from travel tips to interviews with interesting people. In our first podcast, which drops on Monday on SoundCloud (and soon on other platforms), we dish about our recent trip to Maui. We spent 48 hours doing everything from goat yoga to touring a coconut farm.
Why us?
Aside from being part of a very small staff—there aren't many staffers to choose from!—it also makes sense when you get to know us.
You couldn't have picked more different people. While we're both from Oahu—him from the North Shore, me from Kalihi Valley—we don't have much in common except for the fact that we both surf, exclusively wear slippers to work, and share office space. (Literally, our desks are touching.) He just made the cut-off to be a Millennial; I'm smack in the middle of Gen X. He plays the ukulele; I play taiko drums. He's got a girlfriend and a cat named Amira; I'm married with a toddler, three dogs and a chicken that doesn't lay eggs anymore.
But what we do have in common is actually what matters: We love Hawaii, our home, and we can't wait to share it with you.
So tune in on Monday—and every other Monday after that—on SoundCloud to hear us talk story about this place we—and you—love so much.
Click here to listen. Got an idea or question for us? Email us at letters@hawaiimagazine.com.