Our readers' top 5 Hawaii bucket list activities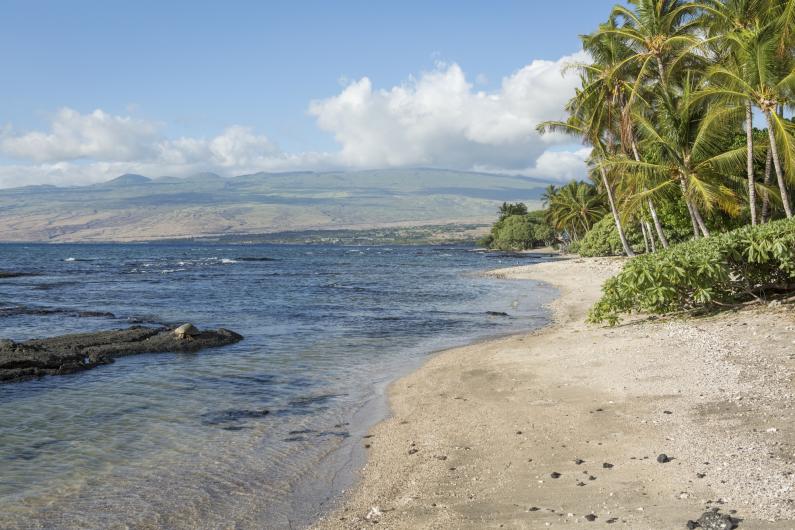 An entire genre of travel books round up writers' top places to visit, things to experience and foods to try before it is—well—too late. But, HAWAII Magazine wanted to know: What are you dying to do and see here in Hawaii?
We recently asked our 153,000-reader strong HAWAII Magazine Facebook ohana what topped their Hawaii bucket lists. We received hundreds of inspiring responses from our followers.
One reader vowed to catch a sunrise and a sunset on each of the main Hawaiian Islands. Several others wanted to try the Kona Ironman, hike into Kauai's Waimea Canyon State Park or walk through a lava tube. One reader wanted to travel by motorcycle throughout Hawaii Island, stopping to visit the many small towns along the way. Still more of you wanted to swim with sea turtles, try poi, experience a luau, or just to dine at Zippy's one more time.
When we tallied up the votes, there was one resounding theme: Most of you would love to just be in Hawaii. In fact, an overwhelming majority of you wanted move to the Islands permanently. Many others were aching to just revisit and an almost equal number have getting here for the first time at the top of their bucket lists.
For this list, we rounded up the Hawaii activities our Facebook readers covet the most. Here are the top 5 activities on their Hawaii bucket lists:
TIE! #5: See Pearl Harbor
Oahu
Pearl Harbor, the home of the U.S. Pacific Fleet, is also the site of the World War II Valor in the Pacific National Monument. The monument shares stories and pays tribute to the Hawaii events that eventually sparked the Second World War. The USS Arizona, a powerful and moving reminder of the past, remains the final resting place for many of the 1,177 crewmen who died aboard the ship on Dec. 7, 1941. The USS Arizona memorial has come to commemorate all armed forces who lost their lives in the Pearl Harbor attack. Other Pearl Harbor Historic Sites include the USS Oklahoma and USS Utah memorials, the USS Bowfin Submarine Museum and Park, the Pacific Aviation Museum at Pearl Harbor, and the memorial for the Battleship Missouri, aboard which Japanese signed the surrender documents that formally ended the war on Sept. 2, 1945.
TIE! #5: Hike the Napali Coast along the Kalalau Trail
Kauai
Voted the most scenic coastline in Hawaii by our Facebook readers in an earlier poll, the 22-mile-long Napali Coast stuns no matter how you reach it. While many of our readers dream of kayaking, sailing, camping and taking a helicopter tour of the Napali Coast, even more have ambitions of hiking along its challenging 11-mile Kalalau Trail. The trail originates at Kee Beach and passes through five verdant valleys and alongside dozens of streams and waterfalls before reaching its terminus at Kalalau Beach. Though it can be done more quickly, many recommend allocating no less than three days to make the in-and-out trek. If you hike more than six miles in to Hanakoa, you'll need a permit from the Hawaii Department of Land and Natural Resources (DLNR) even if you don't plan on camping. Permits are limited and they do sell out. If you're lucky enough to see this bucket list wish to fruition, be sure to book necessary permits well in advance.
TIE! #4: Learn to surf
All islands
Widely considered the birthplace of the sport, surfing and Hawaii are intrinsically linked. Both world-class surfers and complete novices can find suitable breaks throughout the state. For those wondering where to start, try the beginner-friendly waves at Oahu's Waikiki Beach, off Lahaina and Kihei in Maui, around Poipu and Hanalei in Kauai and south of Kailua-Kona at Kahaluu Beach Park on Hawaii Island. In the summer months when seas are calmer, beginners can even learn atop some of Oahu's most legendary North Shore breaks.
TIE! #4: See lava hit the sea
Hawaii Island
There are only a handful sites of in the world where, when conditions are right, you can see molten lava oozing into the ocean and creating new land. One of them is off Hawaii Island's shores. Though Kilauea Volcano is currently sending an active lava flow in the direction of the sea, the flow has not yet reached the ocean. The most recent meeting of these two powerful forces ended on Aug. 20, 2013 after a flow from an East Rift Zone eruption became inactive. Follow lava flow activity on the Hawaiian Volcano Observatory's website to find out if this phenomenon could coincide with your next trip.
#3: Hike the Koolau
Oahu
The Koolau Range is a bit of a misnomer. This undulating wall of green that dominates Oahu's windward side isn't actually a range of mountains, but the remnants of a single massive shield volcano, the eastern half of which slid into the ocean many millennia ago. With an elevation of 3,100 feet, many locations along the ridge afford spectacular views. Trails to reach the summit abound, and include many safer alternatives to the coveted, though dangerous and off-limits, "Stairway to Heaven" climb that has been closed to the public since 1987.
#2: Explore the Hana Coast
Maui
High on the list of Hawaii dream activities was the wish to explore Maui's tropical eastern coastline. Routes 36 and 360, also known as the Road to Hana, span more than 50 miles of cliff-hugging mountain road with nearly 60 bridges and 600 curves cut right into the coast. Along its length from Kahului to the sleepy town of Hana, you'll find a bamboo forest, a stand of painted eucalyptus trees, waterfalls, hiking trails and a red sand beach that had our readers aching to be transported.
#1: Experience the Mule Ride on Molokai
Molokai
Perhaps one of Hawaii's most unique tours on one of the least visited Hawaiian Islands, Molokai's mule ride down steep sea cliffs to the Kalaupapa Peninsula made the bucket lists of even our most veteran Hawaii visitors. Now a National Historic Park, the isolated 4 ½ square-mile peninsula was once a former colony for Hansen's disease patients. Father Damien, now Saint Damien, famously worked within the community, lifting spirits from the time of his arrival in 1873 until he succumbed to Hansen's disease himself in 1889. The area is still home to former patients who've chosen to remain after the close of the center in 1969. The only way to see the sights up close now—unless you charter a private plane—is on foot or by mule. The three-mile trail descends along the 1,700-foot cliffs with 26 sharp switchbacks, a tough route that the mules make a lot easier. The privately-operated mule tour includes the required permits to visit the Kalaupapa community and related historic sites. The round-trip tour by mule takes about 7 ½ hours.
How many of our top 5 Hawaii bucket list activities have you tried? Let us know on Facebook or Twitter! And, if you're looking for some great ideas to try on your next Hawaii adventure, be sure to check out other's comments where we asked the question on our Facebook page.