Our readers' top 5 Hawaii photo ops
What's the one Hawaii photo you've taken that most reminds you of your time in the Islands?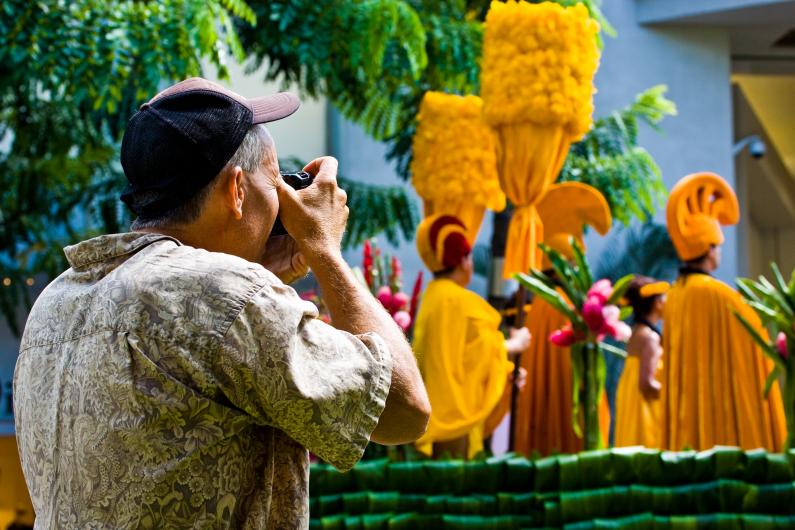 It's remarkable how a single photo can encapsulate the memories of an entire journey and serve as lifelong "proof" that you visited a really special place. Especially when that photo was taken as part of a once-in-a-lifetime trip to a place like Hawaii.
So we wanted to know: What's the one Hawaii photo you've taken that most reminds you of your time in the Islands? The one photo you show to all of your friends to say, "see, I was there!" Was it you with the volcano? A family shot at the Nuuanu Pali Lookout? A friend buying spam musubi at an ABC store? Swimming with your grandchildren? Is there a snap of a rainbow, a pineapple field, a sea turtle or a luau that really brings you back?
We turned to our trusty HAWAII Magazine Facebook reader ohana for their input and received hundreds of responses detailing personal, significant, funny and memorable scenes captured throughout the main Hawaiian Islands. We've tallied up their responses and have a roundup of their favorite and most iconic shots listed below.
If you'd like to join in on our next HAWAII Magazine Facebook Ohana Poll, go to the HAWAII Magazine Facebook page and "like" us. In return, you'll be able to share your answers in all of our future "Hawaii favorite" poll questions as soon as we post them, know the results of the poll when all of the votes are counted, and get all of our daily HawaiiMagazine.com photos and features.


We'll be posting our next Ohana Poll question on HAWAII Magazine's Facebook page in the weeks ahead, so "like" us now if you haven't yet.
Here's our HAWAII Magazine reader ohana's top 5 most popular proof-I-was-in-Hawaii photos:
TIE #5: Lava!
Hawaii Island
All of the Hawaiian Islands were formed by volcanic activity, but Hawaii Island is the only one still on top of a major volcanic hotspot. It's one of the few places in the world with regularly active volcanoes producing lava that you can (sometimes) safely see. For a chance to glimpse of molten rock hitting the sea (the last time this happened was in Aug. 2013), bubbling inside Kilauea's caldera (visible now), or creeping through forests, head to Hawaii Volcanoes National Park and the surrounding areas on Hawaii Island.
TIE #5: The Napali Coast
Kauai
Few places in the world have dramatic scenery rivaling Kauai's rugged Napali Coast where "Windex- blue" water meets the sheer undulating ripples of sea cliffs, some 4,000 feet high. Whether you take in its five expansive green valleys and dozens of waterfall and stream-filled nooks by air, sea or on foot, a shot of the photogenic coastline is one that will definitely make your friends at home jealous and serve as proof you visited this remarkable place.
#4: Road to Hana
Maui
Who wouldn't have shutter fever at the sight of this road snaking alongside Maui's tropical eastern coast? A true Maui experience, our readers' loved their selfies at the route's waterfall stop-offs, more than 60 bridges (many single-lane) and at the along-the-way red sand beach and bamboo forest.
#3: Pearl Harbor
Oahu
Pearl Harbor holds a somber but important place in modern Hawaii history. Our readers' cherish their photos taken alongside the "Mighty Mo" at the independently operated USS Battleship Missouri Memorial, as well as at around the USS Arizona Memorial and Visitors Center, the USS Utah Memorial, the USS Oklahoma Memorial, six Ford Island officer bungalows and several mooring quays at Battleship Row that together comprise the World War II Valor in the Pacific National Monument.
#2: Top of Diamond Head
Oahu
Hiking up Leahi (Diamond Head) is no small feat. In fact, many successful climbers buy t-shirts to commemorate the occasion. Still, we'd venture to guess the most valuable souvenir following 0.75-mile climb to the top is the rewarding view (and a photo to remember it by!) looking out across the ocean and inland over downtown Honolulu and beyond to the Waianae Range.
#1: Around Waikiki
Oahu
We're surprised "Waikiki selfie," hasn't made it into common parlance with its apparent popularity among Hawaii visitors. And can you blame them really? A Waikiki selfie affords the ultimate "proof-I-was-in-Hawaii" photo with its many recognizable and iconic landmarks and activities. Our readers loved snapping photos of themselves at "The Duke" statue, in front of the Royal Hawaiian, fork to hula pie at Duke's Waikiki, floating in the ocean with Leahi (Diamond Head) in the background, learning to surf, sipping Mai Tais or exploring its hidden gems. Don't have a Waikiki selfie yet? Maybe you should come take one!