Overlook with best Kilauea views open again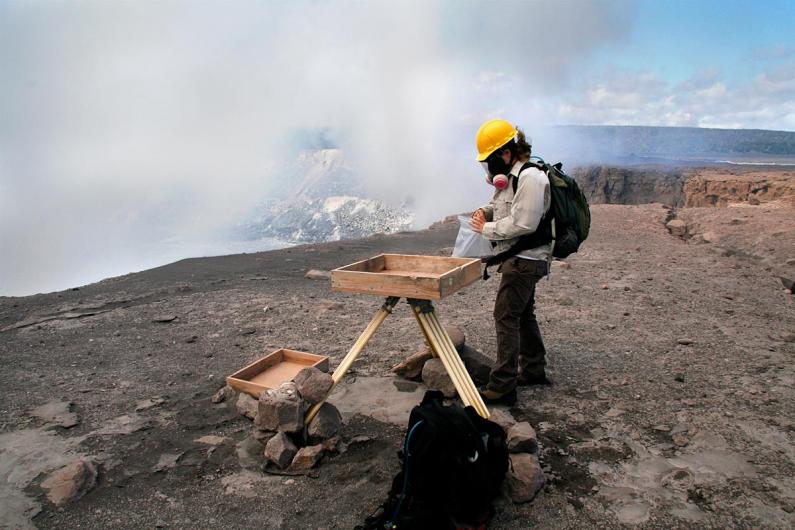 Visitors to Hawaii Volcanoes National Park got an exciting surprise this morning: The road to the best viewing spot for the historic eruption at the summit of Kilauea volcano was again open.
The public is once again permitted to drive Crater Rim Drive to the Kilauea crater rim overlook at Thomas A. Jaggar Museum. From the overlook—neighboring Hawaiian Volcano Observatory—visitors can see the Halemaumau Crater vent that's been spewing steam and incandescent gas since March 11.
The Jaggar overlook was closed on March 18, when a 3 a.m. explosion at the vent sent rocks and bits of molten lava flying over the crater rim and across 75 acres of the surrounding caldera. A viewing platform at the Halemaumau rim—closed since the summit began gushing steam a week before—was heavily damaged. No one was injured in the blast.
The last explosive eruption at the summit of Kilauea was in 1924. A non-explosive eruption last occurred at the summit in 1982.
Since the recent summit explosion, park officials had declined to comment on when access to the excellent viewing spot at Jaggar Museum would reopen. This morning's renewed access saw cars with happy families heading to the overlook.
How long will this prime viewing spot remain open? Only Hawaiian fire goddess Pele knows.
If she doesn't throw any more hot rocks for a while, you'll be able to continue to look right into the vent from about a half-mile away at the Jaggar overlook. And if you do go—especially before dawn or just after dusk—let us know if you agree that the glowing, oblong, 100-foot opening looks a lot like a big fiery eye.