Paakai at Turtle Bay Resort: Ocean-to-table fine dining with fresh custom poke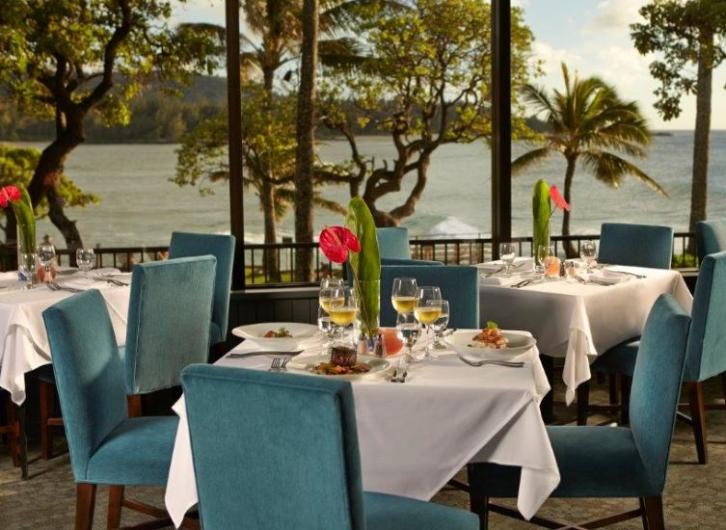 Paakai is the signature restaurant at Turtle Bay Resort. Meaning "sea salt," in Hawaiian, the seafood restaurant is worth a visit, whether you make the long drive to Kahuku on Oahu's North Shore, or you're already staying at the hotel.
The restaurant bills itself as "ocean-to-table," utilizing Hawaii's fresh caught fish and imported king crab. Conrad Aquino is the executive chef at Turtle Bay Resort, and came to the resort from the Maui Sheraton Hotel. At Paakai, he's created a menu celebrating Hawaii seafood with polished dishes.
If you're dining at sunset, opt for a table on the restaurant's lanai. Overlooking the pool bar, you'll have an optimal view of the golden rolling waves. (With large tinted windows, Paakai's interior can get dark. But, under the right circumstances, this can be romantic, too.)
Poke is must in Hawaii, and Paakai's skilled servers will make it fresh for you, tableside. Freshly cubed ahi comes in small wooden calabash bowls and is dressed with inamona (roasted kukui nut), limu (seaweed), paakai (sea salt), Maui onion, green onion, shoyu and nioi (chili pepper water) for added spice. For vegetarians and vegans, order tableside poke made from Molokai sweet potato and Hamakua mushrooms.
The entree winner is the pan-seared moi. It's a crispy whole fish, creatively presented on the plate sitting upright. It's a rich dish, served with pipikaula risotto and king crab legs, making you slow down and savor every bite.
If you're vegetarian, order the spicy glazed tofu. This tofu dish is nothing to scoff at, and worth ordering, even if you eat meat. Two large pieces of tofu are generously coated with Hawaiian chili pepper and soy butter sauce and served with stir-fried season vegetables.
Be sure to save room for dessert, such as the coconut crème brule. This classic dessert is given a local twist, as it's made in Waialua-chocolate covered coconut shell.
---
Open daily, 5:30 to 10 p.m., reservations high recommended, attire is casual resort wear, 57-091 Kamehameha Hwy, Kahuku, Oahu, turtlebayresort.com.