Pali Lookout on Oʻahu Reopens on Nov. 4
The popular lookout, with stunning views of the island's Windward Side, has been closed since March.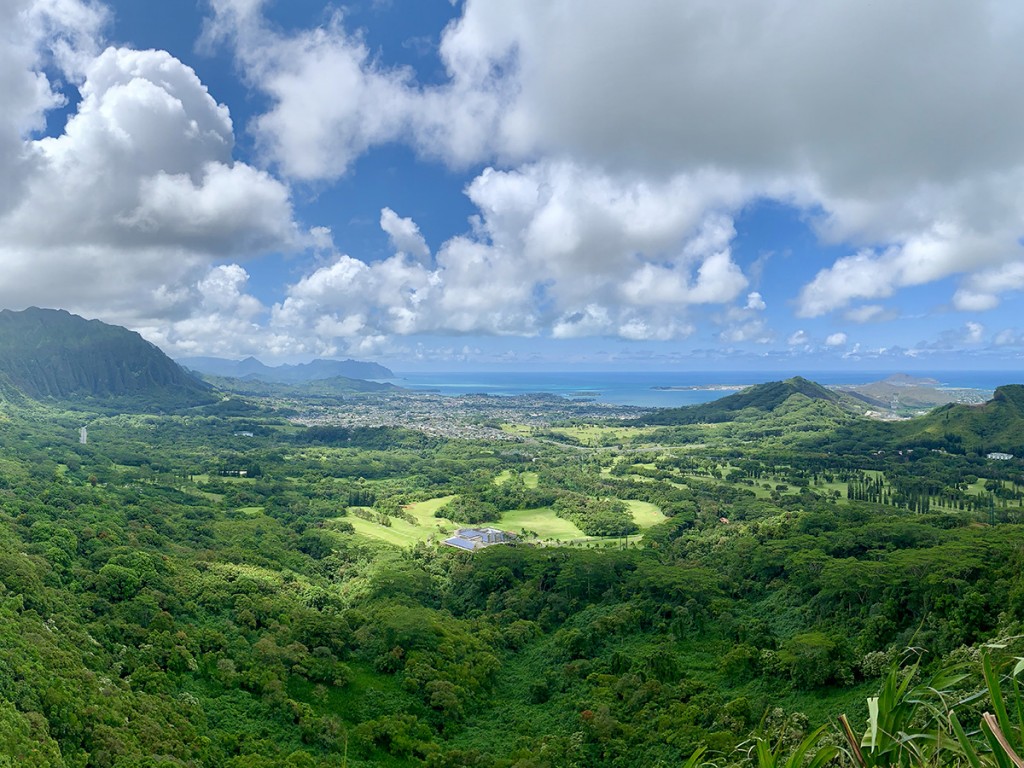 Like many visitor attractions on Oʻahu, Nuʻuanu Pali State Wayside—commonly known as the Pali Lookout—will reopen on Wednesday after being closed in March due to COVID-19.
The state closed the popular lookout due to concerns about large crowds gathering there and budgetary constraints.
Starting on Wednesday, the park will be open from 6 a.m. to 6 p.m. daily. Gates to access roads will be unlocked and secured when the park is closed.
Nu'uanu Pali State Wayside Reopening from Hawaii DLNR on Vimeo.
Perched about 1,200 feet above the Oʻahu coastline, the lookout offers panoramic views of the Koʻolau cliffs and lush Windward Side of Oʻahu. When you're there, it's hard to believe you're only a five-minute drive from Downtown Honolulu. Here, you can see Kāneʻohe and Kailua, Mokoliʻi (aka Chinaman's Hat), Hoʻomaluhia Botanical Garden and the Kāneʻohe Marine Corps Base Hawaiʻi.
The word pali means "cliff" in Hawaiian. The lookout is the site of the Battle of Nuʻuanu, where in 1795 King Kamehameha I won the struggle that finally united Oʻahu under his rule. This fierce battle claimed hundreds of soldiers' lives, many of whom were forced off of the Pali's sheer cliffs.
There are no legal hikes beginning from Pali Lookout, which has been a long-standing issue; violators are subject to citations and fines.
Starting Monday, newly approved parking fees for out-of-state residents and commercial vehicles will apply:
Nonresidents: $7 per vehicle
Commercial vehicles, 1 to 7 passengers: $15 per vehicle
Commercial vehicles, 8 to 25 passengers: $30 per vehicle
Commercial vehicles, 26+ passengers: $50 per vehicle
Residents are not subject to parking and entry fees at any Hawaiʻi state park.