Papohaku Beach, Molokai's Largest Sandy Beach
With as much intrigue as there is wide, open space, this sandy beach enchants all who visit it.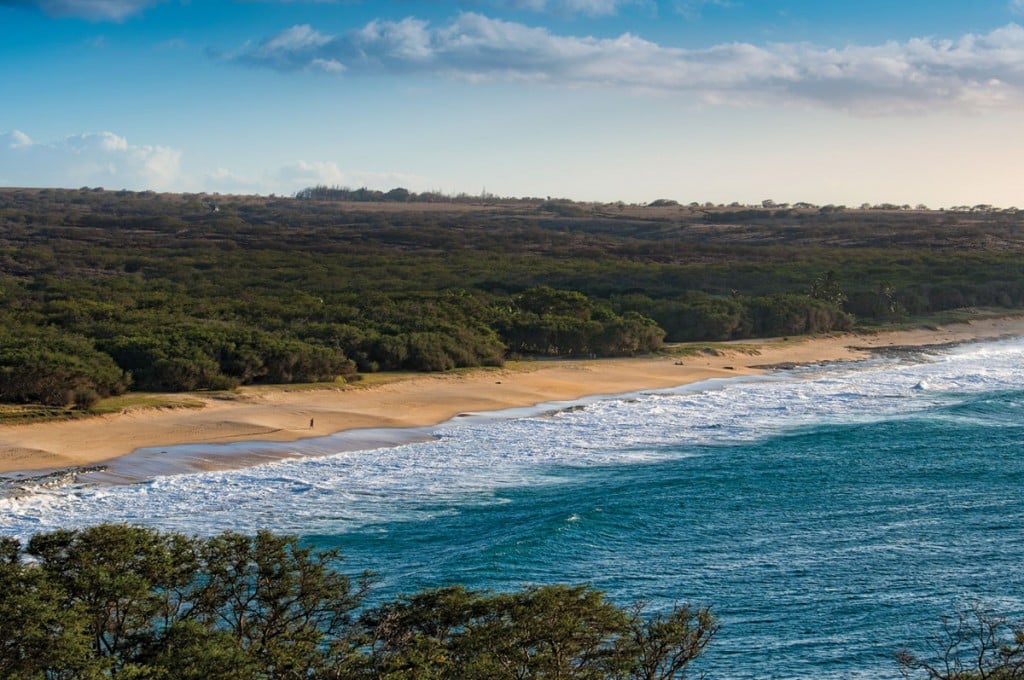 The largest beach on Molokai is hardly a secret, but it sure feels like one.
When we reach the summit of Puu o Kaiaka, a cinder cone headland that hovers over Papohaku Beach's northern end, the overlook delivers on the buzzwords so often used to describe it: Empty. Secluded. Massive. Perfect.
What is Papohaku?
Gazing across its impressive stretch—a long, flat, uninterrupted blanket of mile upon mile of inviting sands—there's not another soul in sight. For now, it's just myself and photographer PF Bentley taking in the faultless view on this arid weekday morning, an ideal day for the beach. There are a number of ways to access Papohaku, the most popular being Papohaku Beach Park, but Bentley suggests we start here at Kaiaka instead, the first geographic marker of the beach you hit when taking the easy, half-hour drive west from Kaunakakai Town. For someone who's never been to Papohaku before, he says, the sheer size of the beach can be best grasped from up here: It's alluringly vacant and beaming with possibility.
"One of Molokai's big falsehoods is there's nothing to do here," Bentley says, as his mixed Rhodesian ridgeback, Ehu Girl, frolics through the parched grasslands of Kaiaka, leading us down a trail to the shore. "Now if your idea of 'everything' is concrete, then, yeah, that's true. But, if it's nature, we have everything." Bentley, who was born and raised in Honolulu, moved to Molokai eight years ago, a direct reaction to the high-rise developments that began springing up in his backyard in the mid-2000s. He's traded in modern city life for Maunaloa, a charming plantation village set just above Papohaku, a beach he's come to know like the back of his hand (and Ehu Girl like the back of her paw). The two take sunrise walks through it daily and it's easy to see why.
Where on Molokai
Hidden in the cradle of the island's west side, Papohaku has been coined Molokai's biggest beach, measuring 3 miles long and 100 yards wide, a sizable quarter of the coastline. Following Polihale on Kauai and Waimanalo on Oahu, it's considered one of the longest white-sand beaches in all the Hawaiian Islands, with low dunes rolling down its backshore topped by coastal strand vegetation. Papohaku Beach Park, about 50 yards upland, has a bathroom facility, freshwater showers, picnic tables, barbecues and two adjacent campsites—more than enough amenities in the unlikely event a swarm of beachgoers flock to it.
"The most people I've ever seen here at one time?" Bentley wonders aloud, as we step out from the shade of a kiawe tree onto the beach. "Seven, maybe 10 people, and that was on a weekend." When he does notice another presence, it's typically just families hanging out, either locals or visitors staying in one of the oceanside vacation villas. Every summer, during the annual Molokai Ka Hula Piko, a celebration that recognizes the island's revered status as the birthplace of hula, some hula halau (groups) set up camp and stay overnight at the beach. It appears Papohaku, for a multitude of personal and communal reasons, holds a special place for the handful who've had the pleasure to experience it.
The irony, then, of its isolation and bulk is you may have seen a part of it without even realizing. Since the early 1960s, Papohaku has been the base for the largest sand-mining operation in the state with large quantities of sand shipped from the island's Hale o Lono Harbor to Oahu, predominately to be used for construction companies, but also to replenish the shrinking beaches of Waikiki. Then, in 1972, the state Legislature passed a law that banned mining the sand of Papohaku's most vulnerable areas and, by the end of the decade, the operation ceased entirely, to the delight of residents and, now, travelers.
What to expect when you get there
Bentley and Ehu Girl stop at a medley of tide pools foaming over with the winter surf. "Depending on the season, it can be two totally different beaches," Bentley says, pointing out how exposed the shore break is right now. With each crashing wave, it's clear that Papohaku isn't a swimming beach. Instead, it's many others: an unplug-and-get-away beach, a simply-stand-here-with-a-cup-of-Malulani-Estate-coffee-and-contemplate-your-life beach, a beach you can file under the crack-open-and-finally-finish-the-book-that's-been-sitting-on-your-nightstand-all-summer variety. Papohaku leaves you more than enough time (not to mention, wide-open space) to do a miscellany of peaceful activities, but taking a safe, leisurely swim isn't one of them. Save that for the summer, when it's generally more placid.
In Hawaiian, Papohaku means "stone fence," but the origins of the name is unknown, lost to time. In fact, Papohaku itself appears to be a beach lost to time. For an Oahu native, to see any square foot of land uncrowded by people or resorts, let alone an entire beach, has the gentle effect of a mirage. But, before I can fall under its spell, Bentley wants me to have a closer glimpse of the beach's south end. Apparently it's possible to find a section of Papohaku that feels more secluded than where we currently are.
Find your own slice of Papohaku
From Papohaku Beach Park, we cruise further west down Kalua Koi Road. Vacation properties, some unassuming, others estatelike, materialize and then disappear as we drive past. At Papapa Place we make a right down a hill where—ta-da!—a tiny public parking lot, about five or six marked stalls, awaits. As I glide down a soft dune, what this middle portion of Papohaku presents is the widest, most uninhabited beach I've ever sunk my toes into.
Even further from town, with a barely there phone signal and no public facilities in sight, it's as if Papohaku teleports you to another deserted oasis unto itself, all with a casual wave of a wand. I make a slow, concerted 180-degree turn to truly absorb this dazzling solitude and realize Bentley couldn't be more right. I spend the next minute contemplating where I should unroll the beach towel, smiling to myself with the thought of how there's nothing to do here.
---
Getting to Papohaku Beach: Take Highway 460 west toward Maunaloa. Turn right and follow Kalua Koi Road to Papohaku Beach Park. Overnight camping is permissible here with a permit from the Department of Parks, Land and Natural Resources in Kaunakakai.