Peek Inside the Storied Paul Mitchell Estate in Lanikai
This one-of-a-kind beachfront property couples a resort-quality experience with privacy and serenity on Oahu's Windward Side.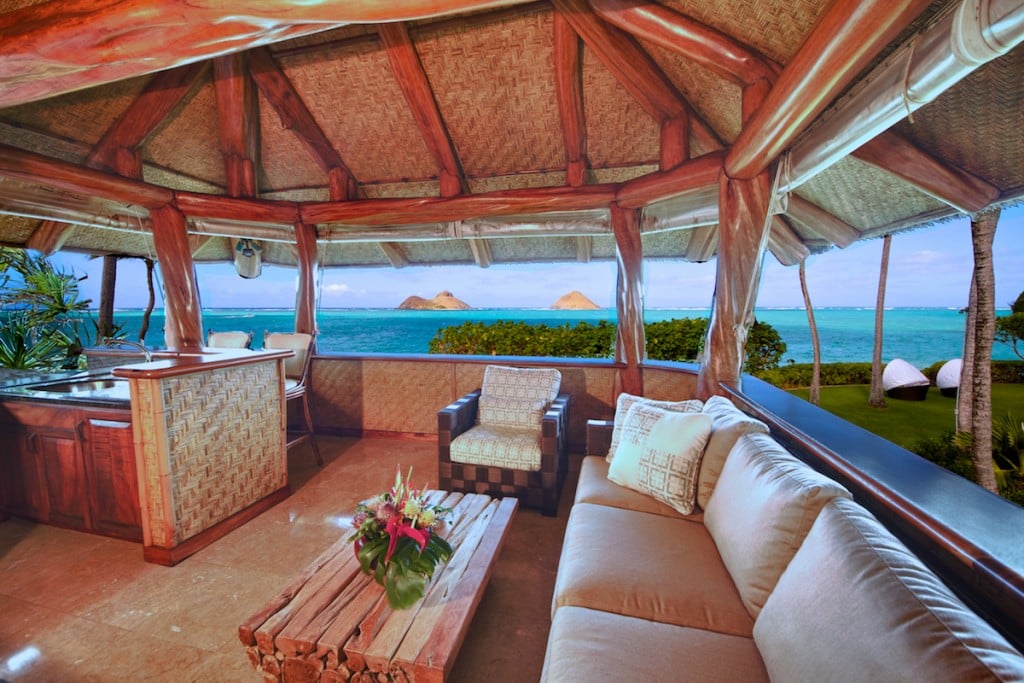 The second you pass through the large copper-and-teak heart-shaped gate of the Paul Mitchell Estate in Lanikai on Oahu, you instantly feel like you're walking the grounds of a luxury resort. And that's exactly the point.
The 1.3-acre property boasts seven buildings designed by legendary hairstylist Paul Mitchell (who died before he saw it finished), a modern interpretation of a Polynesian village, where each structure serves a separate purpose. The estate contains a main house, boat house, kitchen house, garage house, guest house, pool house and bath house—all overlooking the iconic Mokulua Islands. The estate has been a beloved vacation spot for many celebrities, including Rihanna, Adam Sandler and Mariah Carey, and has hosted several photo and video shoots for magazines and musical artists.
This seven-bedroom, 11-bath home is an idyllic place to relax, and, for larger groups staying here, it also offers enough room for retreat and tranquility when you need a break.
"It's where a family or group can spend time together—but not that much time together," Allison Pettersson, the estate representative, says with a smile.
It's a place where you can enjoy an elevated version of island living, while still having all the top luxuries—hello, saltwater pool and hot tub, full air-conditioning and full-property Sonos and Bose music systems! The detail is in the woodwork—from the ohia lehua wood beams supporting the woven arched ceilings, shingled with ironwood and built to resemble humpback whales, to the koa wood doors and cupboards as well as four Balinese hand-carved garage doors. Even elements as simple as the monkeypod stairways have a story: They were made from a tree found on the property and were built to sound like Tahitian drums as you ascend to the lofted master bedroom in the main house, the crow's nest of the boat house or the second floor flat of the garage house.
Many guests don't even leave the property during their stay—a feat made easy with its included concierge services, where guests can opt for amenities such as a private chef, on-site massage, maid service and sometimes even a private luau. Naturally, the estate also sports hotel collection linens and high-end appliances.
Everywhere you turn, there's a new place to hideaway and relax, from the many lounge chairs dotting the beachfront to the Balinese hut tucked in the lush landscaping surrounding the pool house.
"We wanted a house that is not only beautiful but which welcomes the stunning outdoor environment into the indoors," explains Angus Mitchell, Paul Mitchell's son and estate owner, on the website. "We wanted a space for living that strikes the perfect balance between privacy, comfort, and social interaction."
He isn't kidding—you can even enjoy a hot shower outside in one of the two outdoor showers, which are, along with the other bathrooms, fully stocked with Paul Mitchell hair and bath supplies. (Of course!)
You'll definitely leave your stay relaxed after enjoying a cold beer by the lagoon pool, walking along the interconnected koi ponds or spending the day in the spa house—which has a sauna, meditation pond and traditional soaking tub.
Tucked away in Lanikai, which means "heavenly sea" in Hawaiian, it's no wonder why Angus Mitchell says the estate is a "special sanctuary … a place of joyful rest and rejuvenation."
The price tag on this luxury vacation rental matches its splendor: about $6,000 a night with a minimum stay of seven nights. (The property is only rented out once every 30 days, meaning it's reserved for guests for 30 days, but occupancy doesn't have to be for all 30 days.)
And although we can't blame couples for wanting to get married here, the estate works to be sensitive to the privacy and serenity of the Lanikai community, so special events on the property are extremely rare. Consider spending your honeymoon here instead.
For more information about the Paul Mitchell Estate in Lanikai, visit paulmitchellestate.com.