Photo exhibit at Hilo museum offers rare glimpse of 19th century Hawaii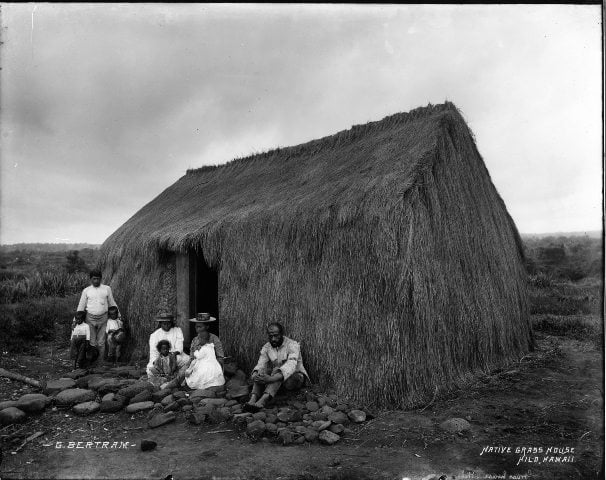 The photos you see here nearly wound up in a Honolulu landfill.
Along with 800 other turn-of-the-20th-century glass plate photos of the Kingdom of Hawaii taken by Bertram Gabriel Bellinghausen, they were marked for trash collectors by a Honolulu private school in 1964 before someone wisely saved them.
Bellinghausen was a young Marianist brother from Dayton, Ohio, who arrived in Honolulu in 1883 to work with the Catholic Mission. On his journeys throughout the Islands over the next 22 years, he combined a boundless interest in the cultures he saw with a passion for capturing it all with the emerging art of photography.
Brother Bertram's photos from his Big Island of Hawaii travels are the subject of "Na Pa'i Ki'i 'O Brother Bertram, Photographs of the Kingdom of Hawaii, 1883 to 1905" on display through October at Hilo town's Lyman Museum. The collection offers a fascinating, rarely seen glimpse of the architecture, people and lifestyle of urban and rural Hawaii during the era.
Brother Bertram's photos are historically important, as well—a one-of-a-kind record of a period when the merging of Hawaiian and Western cultures was accelerating.
"Many of these photos were not presented to the public in Hawaii until 2005," says Lyman Museum executive director Dolly Strazer. "We are fascinated with Brother Bertram's ability to capture nature, witness a family's special moment or record a historic moment. Many of Brother Bertram's photos are, simply put, magical."
The rest of the Lyman Museum and Mission House are on their own worth a visit. The mission house—originally built in 1839 for New England missionaries David and Sarah Lyman—is the oldest intact frame building on the Big Island. Restored to give a sense of missionary life in the mid-1800s, the house—near downtown Hilo—is filled with the original furnishings and household items of the era. The neighboring Smithsonian-affiliated Lyman Museum features extensive collections and exhibitions touching on the natural history and culture of Hawaii.
Having taken many a school field trip to the museum and mission house as a kid growing up in Hilo, I can vouch that the Lyman Museum is a definite "must-see" on your next Hilo visit.
Entry for the entire museum (including the Bertram exhibit) is a very reasonable $10 for adults, and $3 for ages 6 to 17. Hours are 10 a.m. to 4:30 p.m. Monday through Saturday.
Click here for more information, or call (808) 935-5021.