Photography that transforms weddings into glamorous fashion narratives
Chris J. Evans brings an innovative approach to high-end wedding photography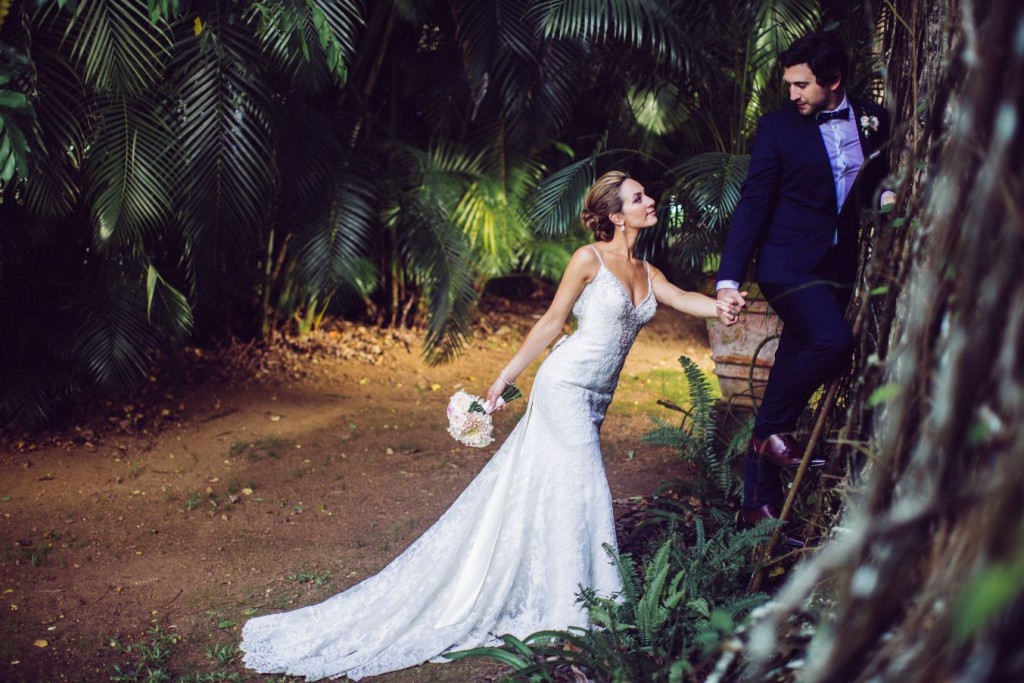 Years of sharpening and refining his craft all led to Chris J. Evans walking nervously, equipment in tow, up the stairs to Maui's Haiku Mill for what would become his breakout opportunity. The only drawback: This crucial shoot came with a glaring catch.
"The couple was from Italy and spoke no English, and I speak no Italian," says Evans. A "hopeless people person," he wasn't going to let a trivial language barrier spoil his mood or deter him from delivering a compelling wedding narrative for Giordana and Paulo, who had travelled across two oceans to celebrate their love in paradise.
Incorporating his innovative and newly framed fashion editorial style of photography, Evans utilized non-verbal cues as he and the young Italian couple moved about the lavish, vine-draped landscape of the converted sugar mill. Connecting as friends rather than vendor and client, Evans was orchestrating a descriptive story, transforming a simple wedding shoot into a glamour exposé.
As the shoot drew to a close, Evans knew he was missing a few conclusive shots. "Out of nowhere I blurted 'Dolce & Gabbana' and Paulo exclaimed 'Yes! modelo fashionista," says Evans. "I literally saw both of them transform their personalities into models, it was stunning and fierce."
Months later, in the fall of 2011, those transformative, glamour wedding photos became the focus on the prominent wedding blog Style Me Pretty. Evans had arrived. His career as a luxury wedding and fashion photographer was set to take off.
Since that first wedding at Haiku Mill, Evans has reshaped the photography landscape on Maui, elevating the second-class reputation that wedding photographers held in the industry for decades.
Validating his artistic process and its stunning results, Evans was recently named the winner of HAWAII Magazine's "Best of Hawaii: All Islands Wedding Photographer".
When receiving a voicemail that he had won, Evans says, "I immediately played the message with my wife and daughters. We celebrated thoroughly. I'm not going to lie, I may have even cried a bit. I was shocked, especially with the amount of talent there is on the islands. This is really exciting considering the amount of time and energy I've put into my career."
Growing up in Laguna Beach, Evans would surf and skateboard with his trusty film camera always close to his side. "I loved photography right off the bat. I was always a little beach kid so I would shoot my friends surfing or girls on the beach, just fun stuff," says Evans.
His fervent savvy at fashion photography resonates from time spent as a child with his mother, D.N. Evans, a world-renowned high fashion and wedding dress designer, and sister, Leesa Evans, a celebrity stylist.
"Throughout my childhood we would constantly travel all over the world for fashion and trunk shows. I spent my entire fifth grade living in Puerto Vallarata with my mom who was putting together a collection of textiles. Fashion has been ingrained in me since I was a little kid running around her store, seeing models in beautiful clothing."
Learning the technical side of photography in high school and college, Evans began practicing his skill set while touring as a guitarist with his band. Finding mild success in music, he put photography on the backburner until a scary moment in 2008 swung photography correctly back into focus.
"That year I broke my back in a surfing accident. While I was laid up I had one of these epiphany moments, taking the accident as a sign from the universe to change directions. I decided right then and there I was getting back into photography full steam so I could set myself up as a professional photographer," says Evans.
And that he did. After recuperating, he purchased his first high end digital camera and jumped in shooting headshots and fashion images for friends in the modeling, surfing and acting industry.
Married with a young daughter, Evans and his family relocated to Maui after falling in love with the island's pastoral sense of pace.
With the abundance of established and amateur photographers on Maui, breaking into the Hawaii photography scene was not an easy task. Like many transplants, it took time for Evans to get his footing. He fell back on a trusted "pastime" of waiting tables. Working at the historic Mama's Fish House restaurant served as a crucial networking vessel for the photography opportunities that lay ahead.
"Mama's gave me a lot of discipline. Being an artist and creative type, I didn't have that before. Not only did it fill that void, but everyone goes to Mama's. I got to meet a lot of the top wedding coordinators and people in the industry," says Evans.
Before his wedding shoot with Giordana and Paulo, Evans had a grand total of three wedding shoot samples to his name. He researched hundreds of wedding blogs and photographer websites in his determined quest to stand out in the crowded market. At a Pacific Wedding magazine photography workshop, the flash finally went off in Evans' mind. He had found his niche.
"What that workshop illuminated for me was that I didn't want to be a wedding photographer. I wanted to be a fashion photographer that shoots weddings. I told myself every time I shoot a pair of shoes I'm doing it as if I'm shooting a Jimmy Choo ad…if I'm shooting a bridal portrait it's like a Vera Wang shoot."
Poetically linking the fashion elements of each wedding shoot, Evans has become fluent at creating a storyline and narrative, capturing the bride and groom as the main characters in an epic love tale.
"The ideal product, the ideal delivery is going to be the images that transport you to this place of luxury and remembering. It doesn't have to be a half a million dollar wedding to be luxurious. I'm all about experience first for my clients. I want to transform them into a heightened, more confident version of themselves." says Evans.
Evans is cognizant of personality, gracefully tailoring each wedding shoot to a couple's natural disposition.
"If I know one or both people are a bit shy, I'll create a softer, more tender narrative. If they're more outgoing and bolder, I like to produce a narrative that's a bit more heroic and grandiose."
Tireless training and an innovative approach to wedding photography have propelled Evans' career. As a loving and supportive father, husband and son, what subtly guides Evans' ability to capture love so intrinsically is the profound respect he has for women and their beauty.
"I love to highlight every woman's beauty, no matter who she is. I want every bride I photograph to feel like she's being photographed for a Vanity Fair cover, capturing their allure in the most respectful light possible."