PHOTOS: "Pirates of the Caribbean" 4 begins filming in Hawaii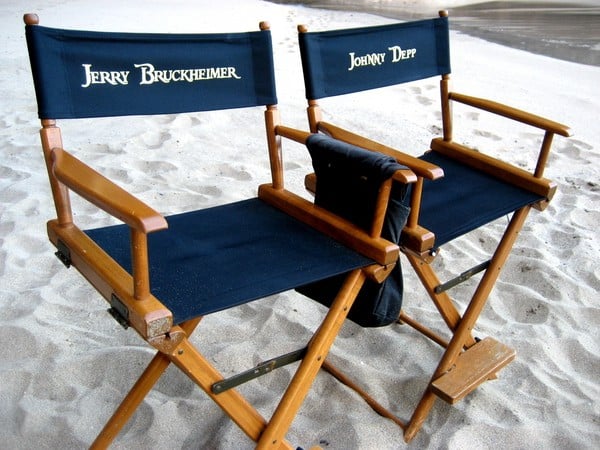 After months of behind the scenes pre-production work, the fourth film in Disney's blockbuster Pirates of the Caribbean franchise, On Stranger Tides, finally began filming last week in Hawaii.
But unlike most Hollywood productions, which keep plot details and photos from the set shrouded in secrecy until just before release, Walt Disney Pictures and producer Jerry Bruckheimer apparently couldn't wait to share—at least a little bit.
Bruckheimer launched the first salvo of Pirates 4 hype shortly after filming began last week on Kauai's remote Napali Coast, posting these behind-the-scenes photos from the Kalalau Beach set on his Twitter account, and promising more.
"I always travel with a camera, rolling suitcase carry-on and my iPod," wrote the mega-producer on his Twitter feed. "Going to try to share many behind-the-scenes photos from Hawaii."
He's not fibbing. Bruckheimer is a longtime photography buff, with a studied eye for shots. In addition to the hundreds of photos he is fond of taking on the sets of his film and television productions, he often totes his camera to films premieres and even interviews. He regularly squeezes a few photos of writers before being interviewed by them. (Bruckheimer shot a few photos of yours truly before we chatted at the media junket for the Hawaii-filmed Pearl Harbor in 2001. I've yet to see the shots, by the way.)
Thanks to Twitter, however, Bruckheimer seems to have finally found an ideal place to share some of his photographic aptitude with fans of his film and TV work. Seen here (and on the following page) are pics of director Rob Marshall (this page, above) and screenwriter Terry Rossio (next page) arriving on the production's remote Kalalau Valley location by jet ski, set chairs for Bruckheimer and Pirates star Johnny Depp (this page, top), a Napali Coast rainbow (next page) and Bruckheimer chatting near the ocean on a satellite phone (this page, below).
"Due to no reception in many of the Hawaii shoot locations, I had to use a special satellite phone all week," he writes in the Twitter caption accompanying his most recent photo, posted this morning.
We'll keep following Bruckheimer's Twitter account over Pirates 4's summer filming schedule on Kauai and Oahu. Meanwhile, doing its part for the hype machine, Walt Disney Pictures, this week, sent out a media release announcing the start of Pirates 4's Hawaii production. After months of behind the scenes pre-production work, the fourth film in Disney's blockbuster Pirates of the Caribbean franchise, On Stranger Tides, finally began filming last week in Hawaii.
The Disney release was pretty much boilerplate fare—brief career summaries of the main cast and crew, non-specific info on filming locations (Hawaii, United Kingdom, Los Angeles). But, perhaps on the heels of media coverage of a copy of the Pirates 4 script being found in a London café this week, Disney's release did reveal some basic plot details:
"In this action-packed tale of truth, betrayal, youth and demise, Captain Jack Sparrow crosses paths with a woman from his past (Penelope Cruz), and he's not sure if it's love—or if she's a ruthless con artist who's using him to find the fabled Fountain of Youth. When she forces him aboard the Queen Anne's Revenge, the ship of the formidable pirate Blackbeard (Ian McShane), Jack finds himself on an unexpected adventure in which he doesn't know who to fear more: Blackbeard or the woman from his past."
All right, not exactly MAJOR plot details, but still.
There was even some media speculation circulating today that Disney execs might have actually planted the 194-page Pirates 4 script in the café—since the unnamed person who found it immediately, without reading it, passed the script on to the British tabloid paper The Sun, which, in turn, returned it to the studio without revealing any details.
"I'm a big fan of the films, but I managed to resist the urge to have a read," the unnamed Sun reader was quoted as saying. "I want to enjoy the movie when it comes out."
Said a Disney spokesman in return: "It's good to know that Sun readers are honorable citizens."
Hmmmm. Let the hype begin!
Pirates of the Caribbean: On Stranger Tides is slated to open on May 20, 2011.
Looking forward to more photos, Mr. Bruckheimer!